SECA 2015 : Utmaningar för den Finska sjöfarten inom området
Aschan, Richard (2012)
---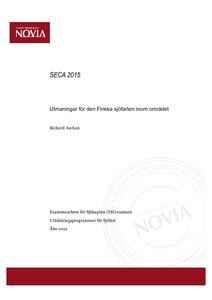 Yrkeshögskolan Novia
2012
All rights reserved
Julkaisun pysyvä osoite on
http://urn.fi/URN:NBN:fi:amk-201304234887
Tiivistelmä
Detta examensarbete behandlar SECA-2015 och vilka utmaningar detta medför för finska rederier inom området. Syftet bakom examensarbetet har varit att sammanställa bakgrunden bakom beslutet gällande IMO:s reviderade MARPOL bilaga VI gällande luftskydd och bakgrunden bakom SECA-området. Dessutom var målet att svara på vilka utmaningar beslutet medför den Finska sjöfarten inom SECA-området.
I detta examensarbete har jag utgått från kvalitativa forskningsmetoder. Jag har använt tidigare undersökningar som behandlar konsekvenserna av beslutet samt jämfört dessa. Vid undersökningen använde jag mig främst av två tillgängliga undersökningar vilka var sammanställda av kommunikationsministeriet i Finland, samt av Sjöfartsverket i Sverige. Därtill gjordes en intervju med Rederierna i Finland r.f. samt två andra finska rederier.
Som resultat av undersökningen framkommer att SECA-området kommer att medföra stora ekonomiska och tekniska utmaningar för rederierna i Finland. Tekniken för att minska svavelutsläppen finns som sådan men tills vidare rätt så obeprövad. Dessutom framkommer att beslutet kommit med allt för stram tidsram för att rederierna skall hinna anpassa sig. Beslutet togs det medan det ekonomiska läget i Europa fortfarande var bättre.
This thesis deals with the SECA 2015 and the challenges this brings upon Finnish shipping companies in the area. The purpose behind this thesis has been to summarize the background behind the decision regarding the IMO's revised MARPOL Annex VI, regulations on air protection and the background behind the SECA area. Moreover, the goal has been to answer which challenges the decision brings the Finnish maritime industry in the SECA-area
In this thesis, I have used qualitative research methods. I have used previous researches available dealing with the consequences of the decision and compared them. In the research I have used mainly two available research publications, which were compiled by ministry of transport and communications in Finland, and the Swedish Maritime Administration. In addition, interviews were made with Finnish shipowners' association in Finland and two independent shipping companies in Finland.
As a result, the research shows that the SECA area will bring significant economic and technical challenges for the shipping companies operating in Finland. The technology to reduce sulphur emissions are available, as such, but for now fairly untested. Moreover, it appears that the decision came with a too tight time frame for shipping companies to adapt. The decision was taken at a time when the economic situation in Europe was better.
Kokoelmat