Ökad patientsäkerhet genom självhävdelse : En systematisk litteraturstudie
Peltola, Jimmy (2013)
---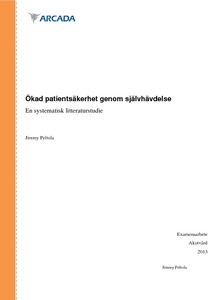 Arcada - Nylands svenska yrkeshögskola
2013
All rights reserved
Julkaisun pysyvä osoite on
http://urn.fi/URN:NBN:fi:amk-201305046192
Tiivistelmä
Syftet med denna studie är att öka förståelsen för självhävdelsens betydelse för patientsäkerhet och teamarbete. De två forskningsfrågorna är: 1. Vad har ett självhävdande beteende för verkan på patientsäkerheten? 2. Vad ökar på det självhävdande beteendet bland sjukskötare? Begreppet självhävdelse betyder att stå upp för sina egna rättigheter samtidigt som andras rättigheter beaktas. I denna studie innefattar de egna rättigheter också patientens rättigheter om att få en god och säker vård. Begrepp som tas upp är patientsäkerhet, icke-tekniska färdigheter och teamarbete. Den tidigare forskningen är gjord i säkerhetsbranscher såsom i luftfarten. Studien görs genom en systematisk litteraturstudie vari det ingår tio studier som behandlat självhävdelse ur ett vårdperspektiv som har analyserats genom induktiv kvalitativ innehållsanalys. Resultatet av analysen är att det finns ett behov av mera självhävdelse i vården på grund av hierarkiskt tänkande, icke självhävdande beteende bland sjukskötare samt det aggressiva beteendet från auktoriteter. Det finns mycket som kan göras för ett mera självhävdande beteende såsom utbildning av personal, utdelade ansvarsuppgifter och ett öppnare klimat som innefattar uppmuntran till självhävdelse. Resultaten av självhävdelseträning är förbättrad kommunikation, ökad självsäkerhet, ökat ansvarstagande, bättre beredskap i konfliktsituationer och ökat förståelse för fenomenet självhävdelse. Denna studie visar att det behövs ett mera självhävdande beteende i vården för att förbättra teamarbete och patientsäkerhet. Ansvaret ligger på både individen och organisationen.
The purpose of this study is to improve the understanding of the effect of assertiveness on patient safety and team working. The questions are: 1. How would a assertive behaviour affect patient safety? 2. What would increase the assertive behaviour of the nurses? Assertiveness is to stand up for your own rights and at the same time avoid to break others rights. In this study own rights includes the patients' rights to get good and safe care. Terms that are present in the study are patient safety, non-technical skills and team working. The previous research is done in safety branches.
The study is a systematic literature overview including 10 nursing articles which have been analyzed through a systematic qualitative content analysis. The results given in the study is that there is a need for assertiveness in the healthcare caused of hierarchical thinking, unassertiveness communication and aggressive behavior from others. There is a lot that can be done to improve the assertiveness, as assertiveness training, legalized rights and an open climate that includes an encouragement to an assertive behavior. The study shows that there is a need for assertiveness in the healthcare to improve the quality of patient safety and teamwork.
Kokoelmat