Hästens rygghälsa med inriktning på dressyrhästens ridning, ryttarens och utrustningens inverkan på hälsan
Skog, Ida (2013)
---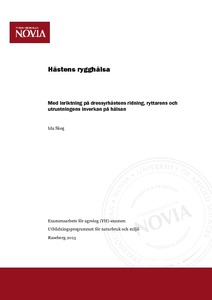 Yrkeshögskolan Novia
2013
All rights reserved
Julkaisun pysyvä osoite on
http://urn.fi/URN:NBN:fi:amk-201305036017
Tiivistelmä
Hästens rygghälsa har under de senaste åren blivit ett omdiskuterat ämne. Hästmänniskor har blivit mer medvetna om vad som krävs för att få en arbetsvillig, välmående häst som verkligen kan prestera den dag det gäller. För att få en samarbetsvillig häst som alltid vill göra sitt bästa krävs en fördjupning i de faktorer som inverkar på en så viktig del av hästen som dess rygg. Hästryggens uppbyggnad och funktion, betydelsen av varierad träning och rätt utrustning, samt ryttarens sits är en del av de faktorer som jag tar upp i detta arbete. Syftet med arbetet är att det skall väcka nyfikenhet eller intresse hos läsaren som sedan väljer att själv fördjupa sig i ämnet. I detta arbete ingår även en undersökning gjord bland veterinärer, dressyrtränare och ryttare. Syftet med undersökningen var att ta reda på kunskaperna och åsikterna kring ämnet hästens rygghälsa.
Resultatet från undersökningen påvisar att de flesta överlag har koll på vad som gäller när man pratar om hästens rygghälsa och hur man på bästa sätt undviker ryggbesvär hos sin häst.
Genom ryggvänlig ridning kan man nå upp till nya nivåer för både häst och ryttare, samt en underbar känsla av enighet. När man väl hittat sin inre balans och styrka leder det till att man får en balanserad och ambitiös häst med ett ledigt rörelsemönster som säkerligen tar dig dit du vill.
During the latest years the health of the horse's back has become a controversial subject. Horse people have become more aware of what is required to get a prosperous horse that is willing to work and can really perform the day it needs to. To get a horse that is cooperative and always wants to do the best it can do, we need to become observant about the factors that affect the most important part of the horse, the back of the horse. The structure and function of the horse's back, the importance of varied training and right equipment, and also the rider's seat are all factors that I confront in this thesis. The aim of this thesis arouses some curiosity and interest in the reader, who then chooses to immerse himself/herself in the subject. In this thesis a survey is included, where I interviewed veterinarians, dressage trainers and riders. My intention with this survey was to find out the knowledge and the views about the subject, the health of the horse's back.
The results of the survey indicate that most of the horse people know what is expected when you talk about the health of the horse back and how to best avoid back problems in the horse.
By back-friendly riding you can reach new levels for both horse and human, and also a wonderful feeling of oneness. When you have finally found your inner balance and strength, it will lead to the fact that you get a well-balanced and ambitious horse with free movement patterns, a horse that will probably take you where you want to.
Kokoelmat