När livet går i kras : Andligt och existentiellt lidande efter ett självmord
Stenberg, Susann (2013)
---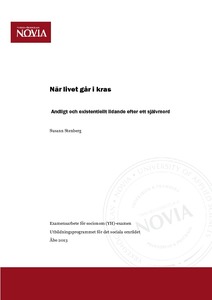 Yrkeshögskolan Novia
2013
All rights reserved
Julkaisun pysyvä osoite on
http://urn.fi/URN:NBN:fi:amk-201305168826
Tiivistelmä
Syftet med examensarbetet är att beskriva andlighet hos närstående vid ett självmord. Detta görs utifrån frågeställningen "hurdana andliga och existentiella teman uppstår hos närstående vid självmord?".
Examensarbetet ingår i projektet Andlighet, spiritualitet och livsfrågor – you name it! vid yrkeshögsskolan Novia i Åbo. Projektet pågår under åren 2013 – 2016. Målet är att detta arbete ska kunna tjäna som grund för projektets fortsättning, då man ska utarbeta metoder och modeller för att möta människors andliga och existentiella behov i olika kontexter.
Arbetet baseras på en kvalitativ litteraturstudie. I den teoretiska delen behandlas andlighet och självmord samt de andliga och existentiella reaktioner som kan uppstå hos närstående vid ett självmord. Arbetets resultat visar att existentiella reaktioner som kan uppstå hos närstående innefattar att godkänna förlusten, otrygghet, behov av att skydda sig själv, reaktioner som påverkar gemenskapen och ifrågasättande av livets meningsfullhet. Till andliga teman som kan uppstå hör en kamp mellan tro och tvivel, vrede och anklagelse mot Gud, frågor om vilken andlig mening det skedda har, livet efter döden och tankar kring synd och straff.
Förhoppningen är att detta arbete kan bidra till en förståelse om vilka andliga behov och livsfrågor den professionella kan möta hos lidande närstående då det gäller självmord.
The aim of this thesis is to describe spirituality in grievers following a suicide. As a springboard, I have formulated the question "Which spiritual and existential questions may arise in close ones following a suicide?"
This thesis is a part of a larger project about spirituality and existential questions, entitled "Andlighet, spiritualitet och livsfrågor - you name it!" within the Novia University of Applied Sciences in Turku. The project is stretching from 2013 to 2016. Ideally, this thesis could serve as a base for the next phase in the project, when methods and models to meet people's spiritual and existential needs in different contexts will be developed.
The research method is a qualitative literature study. In the theoretical part spirituality in relation to suicide is discussed together with spiritual and existential reactions that may surface in the ones close to a person who has committed suicide. The results reveal some existential reactions that close ones can experience, i.e. accepting the loss, feelings of insecurity, needs of protecting oneself, reactions affecting the community and the meaningfulness of life. Themes related to spirituality that may occur include the following: conflicts between faith and doubt, anger and accusing God, questions about the spiritual meaning of the incident, life after death, reflections about sin and punishment.
Hopefully this thesis can contribute to better understanding of spiritual needs and existential questions that professionals may face when they encounter persons who are exposed to the trauma of suicide committed by a close one.
Kokoelmat