Marknadskommunikationsplan för jakten Alexandra
Mickelsson, Ida; Lindell, Sandra (2013)
---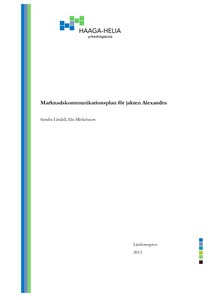 Mickelsson, Ida
Lindell, Sandra
HAAGA-HELIA ammattikorkeakoulu
2013
All rights reserved
Julkaisun pysyvä osoite on
http://urn.fi/URN:NBN:fi:amk-201305169034
Tiivistelmä
Syftet med detta lärdomsprov var att skapa en marknadskommunikationsplan till jakten Alexandra. Föreningen, Skutbyggarna, behövde hjälp med att marknadsföra skutan på ett mångsidigt sätt för att få mera kunder. För tillfället marknadsförs skutan inte alls, och nu vill föreningen satsa på sin marknadskommunikation och denna plan skall ge dem stöd och riktlinjer för att komma igång.
Man har använt sig av teori om marknadsföring och marknadskommunikation för att få en djupare insikt i hur man kan lösa föreningens problem. Teorin behandlar bland annat målgrupper, segmentering av marknaden, köpprocessen och relationsmarknadsföringen.
Förutom teorin behövdes det också information och basfakta om både Alexandra och föreningen Skutbyggarna r.f. För att få den informationen intervjuades både föreningens sekreterare Veikko Vornanen och ordförande Joakim Grönqvist.
Man börjar med att presentera föreningens historia, nuläge samt vad man vill uppnå med detta arbete. Efter det följer teori om marknadsföring, marknadskommunikation och val av målgrupp. Man behandlar också själva utvecklingsprocessen bland annat hur skribenterna utvecklade marknadskommunikationsplanen. Till sist kommer själva marknadskommunikationsplanen, det vill säga strategier, tidsplan och sammanfattning av marknadskommunikationsplanen.
Resultatet av detta arbete är en marknadskommunikationsplan för föreningen Skutbyg-garna r.f.. Planen innehåller information om hur, när och till vem föreningen borde marknadsföra samt vilka åtgärder som borde vidtas för att föreningen skall lyckas med sin marknadskommunikation. Några stora och drastiska förändringar kommer inte att göras, snarare riktlinjer för hur man borde tänka och agera då man börjar med mark-nadskommunikationen.
The aim of this thesis was to create a marketing communication plan for the yacht Al-exandra. Skutbyggarna r.f., the association behind the yacht, needed help with market-ing the vessel in a versatile way in order to attract more customers. At the moment the ship is not being marketed at all, and now the association wants to put some effort into their marketing communications, and this plan will thus give them support and guide-lines for getting it started.
Literature on marketing and marketing communication has been used in order to obtain a better understanding of how you could solve the association's problems. The literature focuses on target groups, segmentation of the market, the buying process and relations marketing.
In addition to literature, information and base facts about both Alexandra and the as-sociation Skutbyggarna r.f. was needed. In order to obtain that information, the union secretary Veikko Vornanen and the union president Veikko Vornanen were inter-viewed.
The marketing plan starts with a presentation of the association's history, present situa-tion, and what the objective of this thesis is. After that follows theory about marketing, marketing communication and the choice of target group. The development process is also explained, for instance how the authors developed the marketing communication plan. Finally there is the actual marketing communication plan, which includes strate-gies, a timetable and a summary of the marketing communication plan.
The result of this is a marketing communication plan for the association Skutbyggarna r.f. The plan contains information on how, when and to whom the association should market and which measures should be taken in order for the union to succeed with their marketing communication. No big and drastic changes will be made, merely guidelines for how to think and act when starting to work with your marketing communication.
Kokoelmat