Äldres livskvalitet i Österbotten : en empirisk studie över vilka faktorer de äldre i Österbotten anser att påverkar deras livskvalitet
Lund, Pia; Kåll, Madelene (2013)
---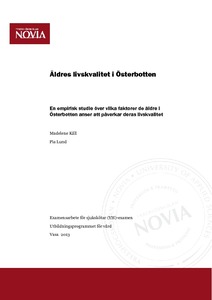 Yrkeshögskolan Novia
2013
All rights reserved
Julkaisun pysyvä osoite on
http://urn.fi/URN:NBN:fi:amk-2013052811181
Tiivistelmä
Syftet med detta examensarbete var att undersöka vilka faktorer som påverkar de äldres livskvalitet i Österbotten. Respondenterna undersökte detta på grund av intresse för de äldre och hur de med denna information kan hjälpa de äldre att må bra i vardagen.
Examensarbetet är ett beställningsarbete för enheten för forskning och utveckling vid Yrkeshögskolan Novia i Vasa. De teoretiska utgångspunkterna bestod av Eriksson (1993, 1995) och Sarvimäki (1996a, 1996b, 2000). Examensarbetet är en kvalitativ intervjustudie och intervjuerna analyserades genom innehållsanalys. Examensarbetets frågeställningar var: Vad associerar du till då du hör ordet livskvalitet? Vad betyder livskvalitet för dig? Kan du med egna ord beskriva hur livskvaliteten kommer till uttryck i ditt dagliga liv? Om du skulle välja tre element som påverkar din livskvalitet, vilka är de? Skulle du säga att din upplevelse av livskvalitet påverkar ditt välbefinnande? Upplever du att din känsla av livskvalitet har ett samband med dina relationer och vilka relationer i så fall?
I resultatet framkom att hälsa, sociala relationer, möjligheten att vara aktiv, att få vara självständig, att hjälpa andra och naturen vara de viktigaste faktorerna för de äldre att känna livskvalitet.
The aim of this study was to investigate what affects the quality of life has on older people in Ostrobothnia. Respondents investigated in this because of the interests of the elderly people and how this this information can help the elderly to feel good in their everyday life.
This study was ordered by the Division of Research and Development at Novia University of applied Sciences in Vaasa. The theoretical frame of reference was Eriksson (1993, 1996). And Savimäki (1996a, 1996b, 2000).The study is a qualitative survey by personal interviews and the interviews were then analyzed through content analysis.
The questions from the respondents were: What to associate when you hear the word quality of life? What would you say the quality of life mean to you? Can you in your own words describe how the quality of life expresses itself in terms of your daily life? If you were to choose three elements that affect your quality of life, who are they? Would you say that your experience of life affect your wellbeing? Do you feel that your sense of quality of life is related to your relationships and what relationships in that case?
The result indicated that health, social relationships, opportunity to stay active, to live an independent life, to help others and also nature was the most important factors for the elderly to feel quality of life.
Kokoelmat