Kalles diabetesäventyr : Ett resursförstärkande spel för femåriga barn
Hållfast, Malin; Fröberg, Pamela (2013)
---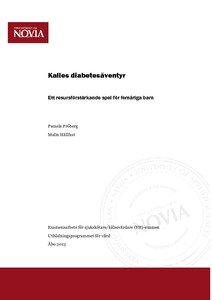 Hållfast, Malin
Fröberg, Pamela
Yrkeshögskolan Novia
2013
All rights reserved
Julkaisun pysyvä osoite on
http://urn.fi/URN:NBN:fi:amk-2013060112324
Tiivistelmä
Detta examensarbete har gjorts inom projektet "Det resilienta barnet". Examensarbetet fokuserar på femåriga barn med diabetes och syftet är att utveckla en prototyp för ett informativt, resursförstärkande och stödande spel om barnbiabetes. Frågeställningarna som besvaras i arbetet är: vad innebär barndiabetes, hur upplevs och bemästras en kronisk sjukdom som diabetes av ett barn och hur kan ett resursförstärkande spel om barndiabetes se ut?"
Barn som har diabetes upplever att de vill bli behandlade som andra barn och ses som normala. För att förbättra anpassningen till vardagen med diabetes behöver barnen själv och människorna i omgivningen få en ökad kunskap om sjukdomen. Därför utvecklas en prototyp av ett spel om barndiabetes som barn i framtiden kan spela och som ökar kunskapen om sjukdomen hos såväl barn med diabetes och barn i deras omgivning.
Prototypen av spelet "Kalles diabetesäventyr" som är resultatet av examensarbetet baserar sig på en teoretisk bakgrund enligt en litteraturstudie och innehållsanalys. Prototypen fungerar som en modell för vidareutveckling av ett brädspel som handlar om "Kalle" med diabetes och i framtiden är informativt, stöder femåriga barn med diabetes, samt har en resursförstärkande funktion. Spelets prototyp presenteras i examensarbetets resultatbeskrivning och bilderna på spelet och dess innehåll presenteras i bilagorna.
This Bachelor's Thesis has been made within the project "Det resilienta barnet" (The resilient child). The thesis focuses on five year old children with diabetes and the aim is to develop a prototype for an informative, resource enhacing and supportive board game. This thesis aims to answer following questions: "What does juvenile diabetes mean?", "How does children cope with the disease and what are their experiences of living with a chronic disease like diabetes"? and "How can a resource enhacing game about juvenile diabetes look like?".
Children with diabetes feel that they want to be treated like other children and seen as normal. In order to improve adaptation to daily life with diabetes, the children themselves and people around them need to get a better understanding of the disease. Therefore, developing a prototype of a game concerning juvenile diabetes that children in the future can play, raises the awareness of the disease in both children with diabetes and children in their environment.
The prototype of the game "Kalle's diabetes adventure" which is the result of the thesis, is based on a theoretical background that a literature review and content analysis resulted in. The prototype works as a model for developing a board game, which in the future will be informative, support five year old children with diabetes and have a resource enhacing function. The prototype of the game is presented in the results description and pictures of the game and what it contains are presented in the appendices.
Kokoelmat