Vårdstudenters upplevelser av simulering : En litteraturstudie
Östman, Jenny (2013)
---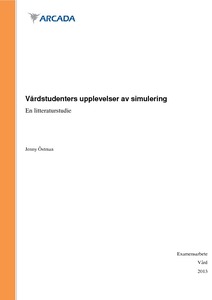 Arcada - Nylands svenska yrkeshögskola
2013
All rights reserved
Julkaisun pysyvä osoite on
http://urn.fi/URN:NBN:fi:amk-2013061614250
Tiivistelmä
Sammandrag:
Syftet med denna litteraturstudie är att undersöka hurudana upplevelser/erfarenheter vårdstudenter har av simulering. Centrala frågeställningar i studien är följande; 1.) Framkommer det i studenternas upplevelser hämmande faktorer som påverkar inlärningen? 2). Förekom det i studenternas upplevelser något som var oförutsett? Tanken är att kunna belysa alla upplevelser, även de som upplevs av en minoritet. Detta för att om möjligt kunna stödja vidare forskning inom ämnet.
Studien är en kvalitativ litteraturstudie, där materialet består att tolv forskningsartiklar som är publicerade under åren 2004-2013. Artiklarna är valda enligt följande kriterier: de skall svara på syftet eller endera av frågeställningarna, samt de skall även kunna tillämpas inom våra förhållanden.
Resultatet bildade en helhet med kategorier som innefattade; Allmänna upplevelser, främjande aspekter och hämmande aspekter. Resultatet var föga överraskande; majoriteten av studenterna hade positiva upplevelser som främjar deras inlärning samt även patientsäkerheteten. Ett litet antal upplevde stress och ångest under simuleringssessionen. Patientsäkerheten har fungerat som studiens teoretiska perspektiv. Eftersom patientsäkerheten i sig är väldigt komplex har tonvikten satts på patientsäkerhetskulturen inom vårdutbildningen.
Abstract:
The aim with this literature study is to research what kind of experiences/perceptions nursing students have from simulation. Key issues in the study are the following; 1.) Does it in the students experiences arise inhibiting factors that affect the learning? 2). Does there arise any unexpected experiences among the students? In this study my aim is to illuminate all experiences, even if only a minority did experience them. This is done so it supports further research in the subject.
The study is a qualitative literature study, where the material consists of twelve research articles that are published during 2004-2013. The articles are chosen during the following criteria's: they will answer the purpose or one of the questions, and it also should be possible to apply them in our conditions.
The results formed a whole with categories including; General experiences, promotion aspects and inhibitory aspects. The result was unsurprising; the majority of the students had a positive experience that improves their learning skills and patient safety. A small group of people experienced stress and anxiety during the simulation process. Patient safety has served as the study's theoretical perspective. Because patient safety is very complex the emphasis have been put on patient safety culture in the nursing education.
Kokoelmat