Kommunikation av Arcada Business School : Hur skall Arcada sprida budskapet om den nya utbildningshelheten?
Englund, Laura (2013)
---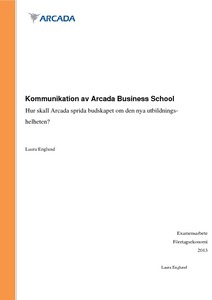 Arcada - Nylands svenska yrkeshögskola
2013
All rights reserved
Julkaisun pysyvä osoite on
http://urn.fi/URN:NBN:fi:amk-2013083014850
Tiivistelmä
Kommunikation och differentiering är viktiga konkurrensfaktorer för såväl företag som för utbildningsenheter. Nyckeln till framgång är att garantera att målgruppen har starka, fördelaktiga och unika associationer och attityder till själva varumärket. Arcada Busi-ness School vill differentiera sig och framhäva sin praktiska studiemiljö där studerande får använda moderna system och instrument samt utveckla digitala tjänster för företag. Målet är att kommunicera detta till den rätta målgruppen. Utmaningen är att först få en helhetsmässig uppfattning om målgruppens känslor, mål och motiv samt hur dessa på-verkar de val målgruppen gör. Syftet med detta examensarbete är få en uppfattning om vilka kanaler, digitala tjänster och digitala verktyg gymnasieelever använder för kom-munikation och informationssökning och vilka faktorer som styr deras val av studieplats efter gymnasiet. Den teoretiska referensramen omfattar olika aspekter inom marknads-kommunikation. Jag undersökte målgruppens vardagliga vanor genom två fokusgrupp-intervjuer i Brändö gymnasium och Helsinge gymnasium. Resultaten från intervjuerna visar på att gymnasieeleverna aktivt använder framför allt sociala medier, men också andra digitala tjänster. Föräldrar och studiehandledare har i viss mån en inverkan på val av studier efter gymnasiet, men eleverna upplever att de i sista hand själva fattar beslu-tet. Den viktigaste inspirationskällan är studerande som berättar om sina studier. Till följd av detta kan man dra slutsatsen att de budskap som riktas till gymnasieeleverna delvis skall finnas i digitalt och delvis i analogt format. Likaså är det viktigt att föräldrar och studiehandledare får ta del av dessa budskap.
Communication and differentiation are key competitive factors for both companies and universities. The key to success is to ensure that the target group has strong, favorable and unique associations and attitudes towards the brand itself. Arcada Business School wants to differentiate and enhance the practical learning environment. Students are allowed to use modern techniques and instruments, and develop digital services for companies. The goal is to communicate this to the target group. The challenge is to first obtain a holistic understanding of emotions, goals and motives, and how they affect the choices the target group does. On one hand, the purpose of this thesis is to get an understanding of which channels, services and devices students in senior high school use for communication and information retrieval. On the other hand, the purpose is to get an idea of which factors that influence their choice of study after senior high school. The theoretical framework covers different aspects of marketing communications. I examined the target group's everyday habits through two focus groups in Brändö gymnasium and Helsinge gymnasium. Results from completed interviews show that students are actively using so-cial media in particular, but also other digital services. Parents and study counselors have a degree of influence on the choice of study after senior high school, but the students feel that they make the final decision. The main source of inspiration is students who talk about their studies. As a result, it can be concluded that the messages are directed to stu-dents in part must be in digital format and partly in social media. Likewise, it is important that parents and school counselors may receive those messages.
Kokoelmat