Laser : - en kvalitativ studie om laser som hårborttagningsmetod
Tuomela, Hanna (2013)
---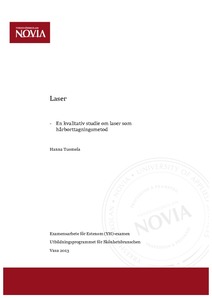 Yrkeshögskolan Novia
2013
All rights reserved
Julkaisun pysyvä osoite on
https://urn.fi/URN:NBN:fi:amk-2013091015115
Tiivistelmä
Syftet med denna studie är att ta reda på hur hårborttagning med alexandrit-, diod- och Nd:YAG laser fungerar, om behandlingarna är säkra, samt om håret förblir borta. Detta för att få kunskap om laser som hårborttagningsmetod, samt för att ta reda på om behandlingen kan rekommenderas. Studien skall ge en uppfattning om hur laser som hårborttagningsmetod fungerar.
Undersökningen har genomförts kvalitativt med hjälp av halvstrukturerade intervjuer som datainsamlingsmetod. Intervjuerna har gjorts med erfarna och kunniga personer som utför laserbehandlingar. Intervjusvaren har analyserats med hjälp av innehållsanalys.
Resultatet visar att hårborttagning med laser går ut på selektiv fototermolys, vilket innebär att laserljus med en specifik våglängd absorberas av hårets färgpigment melanin. Hårsäckar i tillväxtfas hettas då upp och förstörs permanent. Man kan dock inte garantera att man förblir hårfri livet ut, eftersom det under livets gång kan ske en stimulering av nybildning av hår på nya ställen. Resultatet visar att lasermetoden anses vara säker, eftersom laser är ljus. Metoden kan dock medföra vissa risker vid fel inställningar på laserns parametrar. Riskerna är större för personer med stark solbränna eller mörk hudtyp. Resultatet visar även att mörka hårstrån på ljus hud är det ultimata. Vita, gråa, röda och riktigt ljusa hår går i allmänhet inte att behandla. Håret måste innehålla pigment.
The purpose of this study is to examine how hair removal with alexandrite, diode, and Nd:YAG works, if the treatment is safe, and if you can get permanent results. The study is done in order to learn more about the laser hair removal method, and to investigate whether the treatment can be recommended. The study will provide an understanding of how laserhair removal method works.
This is a qualitative study that was conducted using semi-structured interviews. The interviews were conducted with experienced and knowledgeable persons performing laser treatments. The interview responses were analyzed using content analysis.
The result shows that laser hair removal is based on selective photothermolysis, which means that laser light of a specific wavelength is absorbed by the hair melanin. Hair follicles in the growth phase are heated up, and permanently destroyed. One can't guarantee that you will remain hair free for life, because during the course of life it may be a stimulation of the formation of new hair in new places. The result shows that the laser method is considered safe, because laser is light. The method can, however, involve some risks, if the wrong settings on the laser parameters are used. The risks are larger for people with a strong tan or dark skin type. The result also shows that dark hair on light skin is the ultimate. White, gray, red, and really light hair can generally not be treated. The hair must contain pigments.
Kokoelmat