Anknytningens betydelse i dagvård : en kvalitativ undersökning kring anknytning i dagvård och dagvårdspersonalens syn på anknytningsrelationer
Sigg, Emilia (2013)
---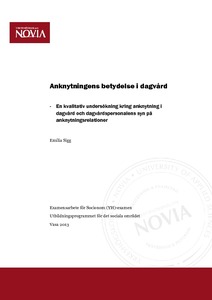 Yrkeshögskolan Novia
2013
All rights reserved
Julkaisun pysyvä osoite on
http://urn.fi/URN:NBN:fi:amk-2013120119262
Tiivistelmä
Syftet med lärdomsprovet är att undersöka betydelsen av anknytning och hur denna utvecklas mellan barn och vårdare i dagvård. I den första delen av lärdomsprovet ges en allmän beskrivning av anknytningsteori, medan andra halvan av teoridelen behandlar anknytning och trygghet i dagvård. Undersökningen genomfördes genom kvalitativa intervjuer med dagvårdspersonal.
Resultatet av den kvalitativa undersökningen visar att dagvårdspersonalen anser att anknytningen är viktig för att barn skall känna trygghet i dagvård. Responsen tyder även på att det finns bristande kunskap inom ämnet anknytning, men att de känner till vikten av att varje enskilt barn knyter an till en vårdare.
The purpose of this Bachelor´s thesis is to investigate the importance of attachment and how attachment develops between children and personnel in day care. The first part of the thesis describe general attachment theory, while the second half of the theoretical part deals with attachment and child safety in day care. The investigation was conducted through qualitative interviews with day care personnel.
The results of the qualitative survey show that the day care personnel considers attachment to be important in order for children to feel secure in day care. The responses also indicates that there is a lack of knowledge on the subject, but that they know the importance of every child attaching to (at least one member of) the day care personnel.
Kokoelmat