Skönhetsideal 2013 : - en kvalitativ undersökning om några unga flickors upplevelser kring skönhetsideal
Staffans, Heidi (2013)
---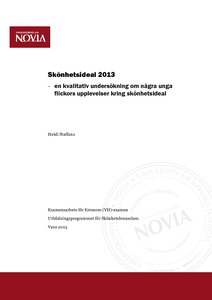 Yrkeshögskolan Novia
2013
All rights reserved
Julkaisun pysyvä osoite on
http://urn.fi/URN:NBN:fi:amk-2013120319692
Tiivistelmä
Syftet med detta arbete är att undersöka unga flickors upplevelser kring skönhetsideal och att ta reda på om det rådande skönhetsidealet har någon påverkan i deras dagliga liv, eftersom allt fler ungdomar mår dåligt i dagens samhälle. Jag hoppas att vi får en ökad förståelse kring ämnet och att vi kan prata med ungdomar om skönhetsideal enligt deras synsätt.
De teoretiska utgångspunkterna behandlar begreppen ideal, skönhet och skönhetsideal, skönhetsidealet från 1960-talet fram till dagens skönhetsideal, tonårsflickan samt självkänsla, självförtroende och självbild. Den teoretiska bakgrunden innehåller fakta om kvinnans roll och skönhetsidealet från 1800-talet till 1950-talet. Detta är en kvalitativ studie där datainsamlingsmetoden är halvstrukturerade intervjuer och dataanalysmetoden är innehållsanalys.
Resultatet visar att inre och yttre skönhet går hand i hand. De yttre egenskaperna som återspeglar dagens skönhetsideal är en smal och vältränad kropp samt ett naturligt utseende. Dagens skönhetsideal styrs även av massmedia, som till en stor del handlar om kändistrender, botox och kläder. Resultatet visar att ovannämnda ideal är svåra att uppnå. I resultatet framkommer att dagens skönhetsideal påverkar omedvetet och det är till största delen en negativ påverkan, men man kan även bli positivt påverkad genom att få motivation att ta hand om sig själv och sin hälsa. Den negativa påverkan handlar om att man blir negativ och kritisk till sitt eget utseende, vilket kan leda till att man känner press, jämför sig med andra och känner att man borde se ut på ett visst sätt. I studien framkommer att största delen av tonåringarna inte försöker se ut som skönhetsidealet och de anser att varken utseende eller att se ut som skönhetsidealet är viktigt. Resultatet visar även att tankar kring utseendet ofta bottnar sig i osäkerhet angående det egna utseendet samt att självkänslan hos unga flickor är ganska varierande.
The purpose of this thesis is to examine young girls' experiences of beauty ideals and to find out if the current beauty ideal has any impact in their daily lives, since more and more teenagers feel bad in today's society. I hope we will get a better understanding of the subject and that we will be able to talk to teenagers' about beauty ideals according to their own view of the subject.
The theoretical starting points describe the notions ideal, beauty and beauty ideals, the beauty ideals from the 1960's to today's beauty ideals, the teenage girl and self-esteem, self-confidence and self-image. The theoretical background contains facts about the role of women and the beauty ideals from the 1800's to the 1950's. This is a qualitative study conducted using semi-structured interviews, which have been analyzed through content analysis.
The result of the study shows that inner beauty goes together with outer beauty. The outer traits that reflect today's beauty ideals are a slim and fit body and a natural look. The current beauty ideal is also controlled by the mass media, which shows celebrity trends, botox and clothing. The result shows that this ideal is hard to achieve. The result also shows that the current beauty ideal mostly has a negative, unconscious influence on teenagers. However, the impact can also be positive since they can get motivated to take care of themselves and their health. The negative impact is about becoming negative and critical regarding their own appearance, which can lead to pressure, comparison with other people and feeling like they should look a certain way. The study shows that the majority of teenagers don't try to look like the current beauty ideal. In their opinion neither appearance nor trying to look like the beauty ideal is important. The study also reveals that thoughts about appearance often are based on uncertainty about their own appearance and that young girls' self-esteem is quite diverse.
Kokoelmat