Ensemblebaserad rytmik för elgitarr : en studie i kreativ komprytmik
Söderbacka, Martin (2013)
---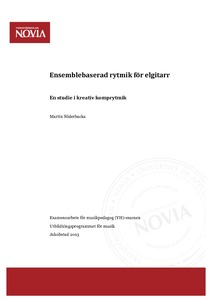 Yrkeshögskolan Novia
2013
All rights reserved
Julkaisun pysyvä osoite on
http://urn.fi/URN:NBN:fi:amk-2013120419903
Tiivistelmä
Syftet med arbetet är att erbjuda elgitarrister en bättre förståelse för den rytmik och kreativitet som tar plats i ensemblespel. Frågor som kommer att diskuteras är: Hur kan man använda rytmik på ett kreativt sätt som elgitarrist i kompgrupp? Hur och med vilka verktyg kan man lära sig använda rytmik? För att besvara forskningsfrågorna baserar jag min metod på litteraturstudier och på en tolknings- och mognadsprocess som har tagit plats under de år som jag studerat musik och jobbat som musiker. Jag använder mig av hermeneutisk forskningsansats. I arbetet diskuteras inlärning av rytmik ur ett pedagogiskt perspektiv och användning av rytmik ur ett praktiskt perspektiv.
I forskningen har jag tolkat och analyserat begreppet rytmik och studerat ensemblen som inlärningsmiljö. Studien diskuterar olika verktyg för att lära sig rytmik och begrundar sig i olika sätt att kreativt använda rytmik i ensemblespel. Forskningens resultat diskuterar olika tillvägagångssätt för att lära sig rytmik och kreativt använda rytmik i ensemblesituationer. För att konkretisera resultatet har jag sammanställt några exempel på hur rytmik kan användas på ett kreativt sätt genom variationer av olika rytmer, kompfigurer och rytmiska delmoment.
The aim of this thesis is to offer guitarists a better understanding of rhythmic concepts and creativity in ensemble. Questions that will be pondered on is how one can learn how to use rhythmic concepts as well as which tools will help to achieve this. In order to answer these questions I have based my methodology on literary sources and on a personal interpretation and maturity process, which has taken place during the years I have studied music and worked as a musician. My research approach is hermeneutical. In this thesis learning rhythmic concepts is reviewed from a pedagogical point of view and using rhythmic concepts from a practical point of view.
In my research I have analyzed and presented an interpretation of the term rhythmic concepts. I have also analyzed the musical ensemble as a learning environment. This study considers different resources on how to learn rhythmic concepts and focuses on methods for creative use of rhythmic concepts in ensemble. The result of this research illustrates different means for learning rhythmic concepts as well as examines the creative use of these concepts in ensemble. In order to explain the results I have compiled a few examples on how rhythmic concepts can be applied in a creative way through variations of rhythms, rhythm figures and different rhythmic concepts.
Kokoelmat