Kundupplevd tjänstekvalitet inom logistiken i ett företagsnätverk : En fallstudie ur Stockmannvaruhusens perspektiv
Fagerström, Hans-Christian (2009)
---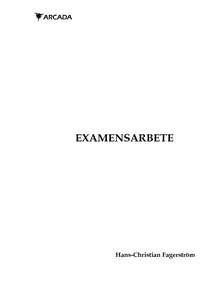 Fagerström, Hans-Christian
Arcada - Nylands svenska yrkeshögskola
2009
All rights reserved
Julkaisun pysyvä osoite on
http://urn.fi/URN:NBN:fi:amk-201001111203
Tiivistelmä
Avsikten med detta arbete var att studera kundupplevd tjänstekvalitet och problem i ett logistiskt företagsnätverk. Nätverket, en företagstriad i Finland, bestående av en leverantör av färdigvaruprodukter inom hemelektronik, en speditör, som levererar produkterna till kunder och en kund som fungerar som återförsäljare av färdigvaruprodukterna.
Undersökningen utfördes som en kvalitativ fallstudie där man genom teori om företags-nätverk, logistikens flödesperspektiv och tjänstekvalitet gick in för att analytiskt granska fallet. Det empiriska materialet till undersökningen insamlade man under en tio veckors period genom praktiskt arbete i kundens lagerutrymmen och på inköpsavdelningen i sam-arbete med triadens övriga aktörer. Arbetet utgick från kartläggning av verksamheten i kundens lager och identifiering av de problem i tjänsterna som speditören erbjuder i sam-band med varuleveranser, till förhandlingar med aktörerna i förebyggandet av de kundupplevda problemen. Problemen i tjänstekvalitet uppstod då leveransdokumentationen och sättet som en beställning levererades till kundens lagerutrymmen inte motsvarade den för-väntade kvaliteten. Den förväntade kvaliteten stipulerade kunden i köpvillkoren och leveransföreskrifterna.
Resultatet i undersökningen var att det fanns otillräckligt praktisk information angående kundens förväntade kvalitet hos speditören och leverantören. Resursrestriktioner att utföra kundens tjänstekrav fanns inte, men för att anpassa leveransaktiviteterna korrekt skulle det kräva att kunden förbättrade informationsflödet till aktörerna genom koordinerat samarbete med inköps- och lageravdelningen.
The purpose of this work was to study customer perceived service quality and problems in a logistical business network. The network consisted of a triad of businesses in Finland, consisting of a supplier of home electronics, a shipping agent, delivering products to customers and a customer that acts as a retailer of the finished products.
The research was carried out as a qualitative case study. Consisting theories of business networks, logistics flow perspective and service quality was used to analytically examine the case. The empirical evidence was collected over a ten-week period by practical work in the customer's inventory spaces, and in the purchasing department in cooperation with other actors of the triad.
Starting point of the work was identification of the logistical activities in the customer's warehouse moving forward to identification of the problems in the services that the ship-ping agent offers in connection with supplies. The work also consisted of preliminary negotiations with the other parties in the network in solving customer's perceived problems. The perceived problems occurred when supply documentation and the way in which an order was shipped to the customer's storage facilities did not correspond to the expected quality. The customer's demand of quality in deliveries was specified in the customers purchasing terms and delivery instructions.
The result of the study was that there were insufficient practical information regarding the customer's expected quality by the shipper and the supplier. Resource restrictions to carry out the customer's service requirement did not exist, but adjusted activities to function as expected would require that the customer improved the information flow to the other actors in coordination and cooperation with purchase- and storage departments as a hole.
Kokoelmat