Upplevelsen av andlighet bland ungdomar i åldern 14-17 år
Leskinen, Linda (2013)
---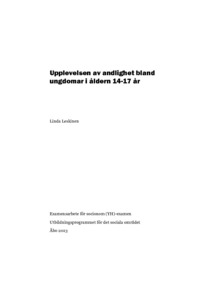 Yrkeshögskolan Novia
2013
All rights reserved
Julkaisun pysyvä osoite on
http://urn.fi/URN:NBN:fi:amk-2013120820424
Tiivistelmä
Ämnet för detta arbete är hur ungdomar i åldern 14-17 år upplever andlighet både i allmänhet och under skriftskoletiden. Arbetet hör till projektet Andlighet, Spiritualitet,Livsfrågor- You name it! och handlar om att utveckla metoder för socionomer, sjukskötare och hälsovårdare som möter människors andliga behov samt livsfrågor och kunna möta dem på ett professionellt sätt. I detta arbete gås det igenom vad andlighet betyder och hur man skiljer på andlighet och spiritualitet. Det tas också upp på vilket sätt ungdomar upplever andligheten i sitt vardagliga liv och också hur konfirmander upplever andligheten under sin tid i skriftskolan. Syftet med detta arbete är att komma fram till på vilket sätt ungdomar upplever andlighet, som sedan ska stå som grund för fortsatt arbete. Metoden under detta arbete har varit teoretisk litteraturstudie och kvalitativ metod, vilket betyder att den litteratur som jag har använt har jag under arbetets gång kritiskt granskat samt jämfört det med tidigare forskning och projektets gemensamma mål. Målgruppen genom hela arbetet är ungdomar i åldern 14-17 år, som har delats upp i två grupper: ungdomar i allmänhet och konfirmander. Arbetet innehåller kapitel där det tas upp hur konfirmanderna upplever andlighet under skriftskoletiden, eftersom den upplevelsen är unik och skiljer sig mycket från hur ungdomar i allmänhet upplever andlighet
Resultaten från detta arbete är både sammanfattat individuellt och gemensamt i grupp och i projektet ASL. Resultatet från detta arbete är att ungdomars upplevelse av andlighet ligger på en individuell nivå och upplevs t.ex. under en andakt på ett skriftskolläger.
Summary
This thesis is about how teenagers between the ages of 14-17 years are experiencing spirituality in their everyday life and during their confirmation time. The thesis is a part of the project Andlighet, Spiritualitet,Livsfrågor-You name it! and is about developing methods for social workers, nurses and for people working in health care, who are on a professional level meeting people with spiritual needs and life questions. This thesis takes up the main questions of the following topics; what is spirituality and how it is defined. This thesis also goes through how teenagers experience spirituality in their normal life and how they experience it during their confirmation. The aim with this thesis is to find out how teenagers experience spirituality, and for the thesis to function as a basis for continued work within this same project. The method in this thesis is based on theoretical literature studies and qualitative social research, which means that all literature used in this thesis is critically reviewed. The literature has also been compared to earlier studies and has also been compared to the project`s common goal. The target audience for this thesis is teenagers between the ages of 14 and 17 years, who have been divided into two groups, teenagers in general and teenagers who are attending confirmation school. The thesis includes chapters about teenagers' spiritual experience while they are attending their confirmation-camp, because the experience is unique and very different from the normal day-to-day spiritual experience.
The result from this thesis is presented both individually by me and together as a group in the project. The conclusion is that the teenagers' experience is individual and can be experienced in many ways, for example during confirmation worship.
Language: Swedish/English Keywords: spirituality, teenagers, confirmation, confirmation attenders, identity, religion, spirit
Kokoelmat