Ferry Traffic on the Bothnian Bay : Market Research of a Potential Ferry Line Between Kokkola and Skellefteå
Svartsjö, Ann (2013)
---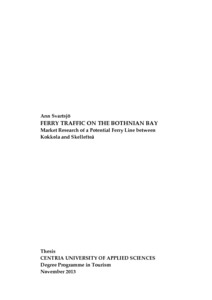 Centria ammattikorkeakoulu (Keski-Pohjanmaan ammattikorkeakoulu)
2013
All rights reserved
Julkaisun pysyvä osoite on
http://urn.fi/URN:NBN:fi:amk-2013121721533
Tiivistelmä
The subject of this thesis was a potential new ferry line on the Bothnian Bay, between Kokkola in Finland and Skellefteå in Sweden. The aim was to find out whether there is a ground and demand for running the ferry connection Kokkola-Skellefteå, which has not been current since the late 1990's. Furthermore, the intention was to invoke the potential development of a new ferry line which would complement the current ferry line between Vaasa and Umeå during the summer months.
The history of past ferry lines are presented, as well as the destinations Kokkola and Skellefteå. Finally the opportunities and difficulties with operating the ferry line are discussed. The research carried out was quantitative and investigated the interest of 461 potential customers, of the regions of Kokkola and Skellefteå, in using the ferry line. Also 35 assorted travel organisers on both sides of the Bay were inquired in the research. The initiative for the research was originally raised by, among others, the city of Kokkola and Destination Skellefteå. Centria Research and Development was assigned to commit this research, and functioned as the commissioner in writing this thesis.
The main findings of the research indicated that there appears to be a general interest and hope of a continuation of the ferry line. However, the concept of the new ferry line has been faced with challenges, such as the much needed financial supports that have been proven difficult to obtain. Moreover, if the ferry line would be actualised, it might be challenging to produce adequate profit considering the competition of ferry passengers with the ferry connection on Kvarken.
Ämnet i detta examensarbete var en potentiell färjelinje på Bottenviken, mellan Karleby i Finland och Skellefteå i Sverige. Målet var att få reda på om det finns en grund och efterfrågan för att bedriva färjelinjen Karleby-Skellefteå, vilken inte har varit verksam sedan slutet av 1990-talet. Vidare var syftet att ge grund till en potentiell utveckling av en ny färjelinje som kunde komplettera den nuvarande färjelinjen mellan Vasa och Umeå under sommarmånaderna.
Historia om tidigare färjelinjer samt fakta om destinationerna Karleby och Skellefteå presenterades. Slutligen diskuterades möjligheterna och svårigheterna med att trafikera färjelinjen. Undersökningen som genomfördes var kvantitativ och utredde intresset av att använda färjelinjen, bland 461 potentiella kunder från Karlebyregionen samt Skellefteåregionen. Även 35 utvalda reseorganisatörer från båda sidorna av viken blev tillfrågade i undersökningen. Initiativet till undersökningen togs först av bland andra Karleby Stad och Destination Skellefteå. Centria forskning och utveckling fick i uppdrag att genomföra undersökningen, och fungerade också som uppdragsgivare i utarbetandet av detta examensarbete.
De primära resultaten av undersökningen indikerade att det förefaller sig finnas ett generellt intresse och en förhoppning om en fortsättning på färjelinjen. Däremot står konceptet med den nya färjelinjen inför en del utmaningar, såsom de välbehövda finansiella stöden, vilka har visat sig svåra att erhålla. Därtill kan det bli utmanande att producera tillfredsställande vinst med färjeförbindelsen på Kvarken med tanke på konkurrensen om färjepassagerare, i fall färjelinjen förverkligas.
Kokoelmat