Övergång från telefontjänst till kundmöten på kontoret : En anpassad servicemodell för ökad försäljning på S-Banken
Sulander, Kia (2013)
---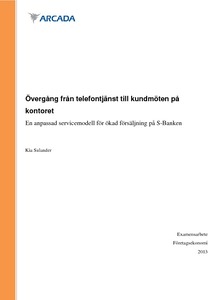 Arcada - Nylands svenska yrkeshögskola
2013
All rights reserved
Julkaisun pysyvä osoite on
http://urn.fi/URN:NBN:fi:amk-2013122022006
Tiivistelmä
Syftet med denna studie är att anpassa S-Bankens servicemodell från telefontjänsten till kundmöten på kontoret, på ett sätt som skulle öka på försäljningen. För att uppfylla syftet har både bankrådgivarnas samt kundernas attityder och erfarenhet gentemot den existerande servicemodellen och merförsäljning studerats mera på djupet, samt vilka förbättringar som kunde göras.
Datainsamling skedde via tre semistrukturerade intervjuer med bankrådgivarna på kontoret, samt en observation av dessas användning av servicemodellen i praktiken. Semistrukturerade intervjuer med 13 kunder utfördes för att få fram deras intryck av tjänsten. Inom den teoretiska referensramen diskuteras bankbranchen samt uttryckande särdrag för själva betjäningsmomentet. Kroppsspråk lyfts fram som ett viktigt element i detta. Förmannens stöd samt en motiverande utbildning av personalen diskuteras även som viktiga element för en lyckad tjänst. DABA och AIDA modellerna betonar säljarens roll som problemlösare och rådgivare samt ansvar i merförsäljning.
Studiens resultat visar att servicemodellen inte fungerar perfekt i alla kundmöten i sin nuvarande form, utan borde ändras för att bättre komplementera arbetets natur på kontoret. Inom ett ansikte mot ansikte tjänsteyrke har kroppsspråk och utseende en stor betydelse och vore bra att lägga till i servicemodellen. En tydlig brist av merförsäljning kunde skådas, samt ett visst motstånd till försäljning bland personalen. Kunderna var inte heller intresserade av merförsäljning. Kunderna är själva nöjda med banken, men vet troligen inte om alla produkter och tjänster som kunde vara bättre för dem.
Den väsentliga modifikationen i servicemodellen utgörs av ett nytt steg i tjänsteprocessen, alltså merförsäljning. Den har formulerats med både AIDA och DABA -modellerna, som struktur och med strategiska ordval så att den lämpar sig för kundmöten på kontoret. Viktigaste var att undvika ordet försäljning och istället tala om kartläggning av kundens behov, och på så sätt anpassa merförsäljning till servicemodellen på ett sätt som accepteras av kunderna och personalen. För att detta skall lyckas, behöver bankrådgivarna mera träning, skolning och personlig stöd från förmannen.
The purpose of this study is to adapt the S-Bank service model from telephone service to client meetings in the office, in a way that would increase sales. To fulfill the purpose, both bank advisor and customer attitudes and experiences towards the existing service model was studied more in depth, and what improvements could be done.
Data collection was done through three semi-structured interviews with bank advisors in the office, as well an observation of their use of the service model in practice. Semi - structured interviews with 13 customers were conducted to obtain their impressions of the service. Within the theoretical framework discussed in the banking industry and expressing characteristics of the service operation. Body language is highlighted as an important element in this. Manager support as well as motivational staff training is also discussed as important elements for a successful service. DABA and AIDA models emphasize the role of the seller as a problem solver and counselor, and having responsibility in sales.
Our results demonstrate that the service model does not work perfectly in all client meetings in its current form, but should be modified to better complement the nature of work in the office. In a face to face service professionals have body language and appearance of great importance and would be good to add to the service model. A clear lack of additional sales could be seen, as well as some resistance towards sales of personnel. Customers were also not interested in additional sales. Customers are very satisfied with the bank, but they probably do not know all products and services that might be better for them.
The essential modification in the service model consists of a new step in the service process, thus additional sales. It was formulated with both AIDA and DABA - models, structure and strategic choice of words so that it is suitable for client meetings in the office. Most important was to avoid the word sale and instead talk about the mapping of customer needs, and to customize the sales to the service model in a manner accepted by clients and staff. For this to succeed, it needs bank advisors to organize more training, education and personal support from the manager.
Kokoelmat