Behov av resebyråernas gatukontor - Case Finlands Resebyrå
Ericsson, Bettina (2010)
---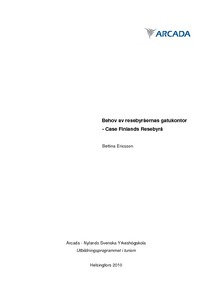 Arcada - Nylands svenska yrkeshögskola
2010
All rights reserved
Julkaisun pysyvä osoite on
http://urn.fi/URN:NBN:fi:amk-201001201436
Tiivistelmä
Syftet med detta examensarbete var att från kundernas synvinkel utreda i vilken mån Finlands Resebyrås gatukontor och den personliga kontakten behövs, då de elektroniska distributionskanalernas popularitet ständigt ökar. Undersökningens delsyften var att definiera de vanligaste bakgrundsfaktorerna som kan vara orsaken till behovet av den personliga kontakten och hurdana produkter och tjänster som främst köps genom personlig kontakt.
Teoridelen är indelad i tre delar: distributionskanaler, marknadsföring och försäljning och konsumentbeteende. Med denna teoretiska referensram som bas gjordes en kvantitativ undersökning med hjälp av en elektronisk enkät skickades ut till Finlands Resebyrås kunder, i och med företagets nyhetsbrev. Undersökningen gav 234 svar, vilket utgjorde en bra grund för det som skulle analyseras.
De tydligaste och mest betydelsefulla resultat som undersökningen gav var att Finlands Resebyrås kunders än idag anser gatukontoren vara en betydelsefull distributionskanal inom turismbranschen och att merparten av kunderna även har ett behov av den personliga kontakten då de bokar en resa.
The intention of this thesis were to, from the customers' point of view, investigate in what extent the Finland Travel Bureaus street offices are needed, when the use of electrical distribution channels constantly are increasing. The sub subject of this study was to define the most common background factors, that could be the reason for the need of personal contact and what kind of products or services that mostly are bought through personal contact.
The theory part is divided in three parts: distribution channels, marketing and sales and consumer behaviour. With this theoretical reference frame as a base, a quantitative research was done with help of electrical surveys sent out to Finland Travel Bureaus customers with the companies' newsletter. The survey gave 234 responses, which made a basic foundation for the analyse.
The most apparent and most important results that the research gave, was that the customers of Finland Travel Bureau still today thinks the street offices are an important distribution channel within the tourism sector and the bulk of the customers even has a need of the personal contact when booking a trip.
Kokoelmat