En levande skärgård i framtiden – Pellinges utmaningar
Tillman, Sandra (2014)
---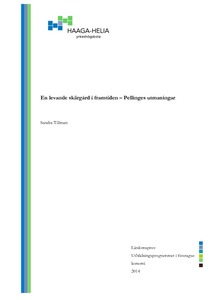 HAAGA-HELIA ammattikorkeakoulu
2014
Julkaisun pysyvä osoite on
http://urn.fi/URN:NBN:fi:amk-201401261719
Tiivistelmä
Lärdomsprovet "Levande skärgård i framtiden – Pellinges utmaningar" ser på skärgår-dar i allmänhet och deras utmaningar och hot, på skärgårdspolitik och på Pellinge med dess befolkning, framtid och utmaningar.
Målet med lärdomsprovet är att få veta om de för- och nackdelar det finns i livet på Pellinge, att se hur skärgårdslagen påverkar och vilka andra utvecklingsprogram det finns samt att se vad invånarna anser om det offentliga stödet till Pellinge. Syftet är att se om Pellinge har förutsättningar för att fortsätta vara ett levande samhälle ute i skär-gården även i framtiden.
Lärdomsprovet gjordes mellan våren 2013 och januari 2014. Materialet framskaffades genom intervjuer och enkäter medan teoridelen är baserad på ett stort antal skrivna käl-lor. I slutet på lärdomsprovet presenteras resultaten och slutsatserna.
Resultatet visar att Pellingeborna vill bo på Pellinge och tycker om livet där. Dock är de inte nöjda med det offentliga stödet då service läggs ner och inget nytt synbart kommer till för att kompensera. Framtiden ser dock ljus ut med nya, endera färdiga eller närapå färdiga, planer för skärgården som löser nuvarande problem och stöder utvecklingen av skärgården.
This thesis looks into archipelagos in general and the challenges and threats these are facing. The study comprises a detailed study of the Pellinki islands, dealing with local politics, the inhabitants, challenges, and future visions.
The objective was to find the pros and cons with living in Pellinki, to take a look at how the archipelago law has influenced the development of the archipelago, to look into other development programs, and lastly to find out the inhabitants' opinions regarding the support the Pellinki islands receive from the city and the state. The purpose was to investigate whether Pellinki had the necessary conditions to remain a thriving island society also in future.
The thesis was conducted between spring 2013 and January 2014. Data were collected by means of questionnaires and in-depth interviews. The theoretical framework is built on a comprehensive review of written sources. At the end of the thesis the results are presented and conclusions drawn.
The result shows that the inhabitants in Pellinki enjoy living on the islands and want to stay there. On the other hand, they are dissatisfied with the weak political support, as services are being discontinued without a viable alternative. However, new plans are being created which should solve the current issues and support the future development of the archipelago.
Kokoelmat