Virtualisering av resurser i en yrkeshögskola
Rautelius, Jonas (2014)
---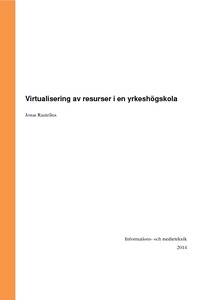 Arcada - Nylands svenska yrkeshögskola
2014
All rights reserved
Julkaisun pysyvä osoite on
http://urn.fi/URN:NBN:fi:amk-201402041985
Tiivistelmä
I examensarbetet undersöks om Windows Server 2012 Virtual Desktop Infrastrukture går att använda i skolmiljö. Beställaren har som krav en fungerande lösning som är lättare att använda, för både studeranden och lärare.
Examensarbetet består av en teoretisk och en praktisk del. I den teoretiska delen beskrivs olika sorter av virtualisering, bl.a. paravirtualisering och operativsystems virtualisering. Windows serverarkitekturen förklaras också, eftersom det är serveroperativsystemet som används. Virtualiseringsteorierna används som byggklossar för den praktiska delen. I den praktiska delen beskrivs installationsarbetes olika skeden. Installationen är av Windows server och alla delar som man måste installera för att få en fungerande fjärrskrivbordsinfrastruktur. Både fjärrapplikationer och fjärrskrivbord testas.
På virtualiseringsinfrastrukuren testades det att köras Visual Studio 2012 med Windows Phone SDK, Eclipse, Netbeans och Libre Office som Fjärrapplikationer. Både Windows Phone SDK och Eclipse hade rättighetsproblem. Detta kunde dock rättas till med att lägga till rättigheter för användarna eller gruppen. Sedan testades det att installera Windows 7-pools med programmen Android SDK, Java, NetBeans ,Eclipse, LibreOffice. För att kunna laga en pool måste man laga en mall. Detta gjordes igenom att använda "System Prepation Tool".
The thesis examines if the Windows Server 2012 Virtual Desktop Infrastructure can be applied in school environment. The client's requires a workable solution that is simple to use, both for students and teachers.
The thesis consists of a theoretical and a practical part. In the theoretical part describes different kinds of virtualization, including Paravirtualization, OS-virtualization, and Windows Server Architecture. These are the building blocks of the practical part. In the practical part is the installation work described. Installing Windows server and all the parts you need to install to get to get a working virtual desktop infrastructure. Both the remote apps and virtual desktop.
On the virtualization infrastructure following programs were installed and tested: Visual Studio 2012 with the Windows Phone SDK, Eclipse, Netbeans and LibreOffice as remote applications. Both Windows Phone SDK and Eclipse had user rights problems. However, this could be corrected by adding the rights for the users or the group. Windows 7 pools were installed and tested with these programs Android SDK, Java, NetBeans, Eclipse, and LibreOffice. The only problem that occurred was that in order to prepare a pool you have to make a template. This was done through the use of System preparation tool.
Kokoelmat