Lightweight purlins stiffened with polyurethane foam
Shakya, Sujan (2011)
---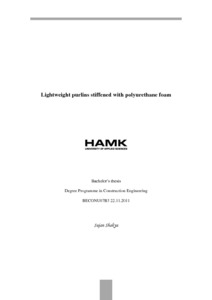 Hämeen ammattikorkeakoulu
2011
Creative Commons Attribution-NonCommercial-ShareAlike 3.0 Unported
Julkaisun pysyvä osoite on
https://urn.fi/URN:NBN:fi:amk-201402062087
Tiivistelmä
The objective of this thesis was to implement new ways to stiffen the cold-formed steel (CFS) profiles in steel purlin system. Use of polyurethane foam as stiffeners in purlin system is an innovative approach and is worth testing. This thesis was commissioned by Sheet Metal Center (SMC) and tests were conducted in SMC test hall from March 2011 till August 2011.

The aim of this thesis work was to find an innovative method of stiffening cold-formed steel purlins against various buckling modes. Polyurethane boards (PU-boards) can be used as longitudinal stiffeners in the cold-formed C-profiles/purlins which will reinforce the profiles against buckling. The combination of PU-board of high stiffness-low strength and light-weight purlin of high strength-low stiffness were used to conduct our test to get the beams with high strength and high stiffness.

The metal sheets used for the C-profile manufacture were S280+Z275 of thickness 0.5mm and S350+Z275 of thickness 1.0mm. In total, 20 tests were carried out which included two different cross-sections from each sheet-steel types. Four point bending setup was used to conduct the bend-ing stiffness test. The average tangent bending stiffness of unstiffened profiles for S280+Z275 and S350+Z275 were 324,64 kNm2 and 829,23 kNm2 respectively. When profile webs of each sheet-steel material type were stiffened by polyurethane foam, values of tangent bending stiffness increased by 3% to 4% respectively. Similarly for web and flange stiffened profiles, the values leaped up to 11% and 9% respectively. Using PU-board as flange stiffeners were able to yield approximately an additional 10% of the bending stiffness compared to unstiffened beam. This means that the flanges are very critical member regarding the bending stiffness of the C-profile and stiffening flanges against buckling modes can be very ef-fective way to increase the bending stiffness of CFS-profiles.
Kokoelmat