Mötet med barn och skilsmässa : - en kvalitativ undersökning om dagvårdspersonalens upplevelser och bemötande av barn vars föräldrar skilt sig
Snellman, Jessica (2014)
---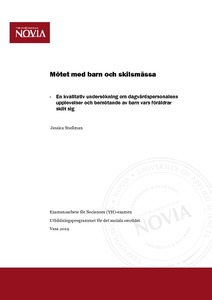 Yrkeshögskolan Novia
2014
All rights reserved
Julkaisun pysyvä osoite on
http://urn.fi/URN:NBN:fi:amk-201402202514
Tiivistelmä
Syftet med mitt lärdomsprov är att undersöka hur barn påverkas av sina föräldrars skilsmässa, samt på vilka sätt dagvårdspersonalen kan bemöta och stöda ett barn som genomgår en separation på ett tryggt och uppbyggande sätt. Lärdomsprovet består av en teoridel om barn och skilsmässa följt av en empirisk del.
Lärdomsprovets mest centrala frågeställningar är: Hur påverkas ett barn av skilsmässa? Hur upplever dagvårdspersonalen barnet och hur kan de bemöta det på ett stödjande sätt? På vilka sätt kan personalen stöda och hjälpa ett barn som genomgår omvälvande händelser?
Undersökningen genomfördes genom kvalitativa intervjuer tillsammans med dagvårdspersonal som hade lång erfarenhet inom barndagvården. Av resultatet framkom att barn reagerar mycket individuellt på sina föräldrars skilsmässa, och hanterar, samt bearbetar, en skilsmässa på varierande sätt. Alla respondenterna var eniga gällande dagvårdspersonalens betydelsefulla roll i att erbjuda barnet trygghet och framhävde detta tydligt.
The aim of this Bachelor's thesis is to investigate how children are affected by their parents' divorce. The purpose is also to investigate the way in which daycare personnel can face and support a child who goes through a divorce, in a positive and encouraging way. This thesis consists of a theory part where facts about children and divorce are presented, followed by an investigation.
The most central questions of this thesis are: How does a divorce affect children? What kind of experiences do the daycare personnel have from children who go through divorce? How can the personnel support a child in helpful and encouraging way? In which ways can the daycare personnel support a child who experiences a difficult situation?
The investigation was conducted through qualitative interviews with daycare personnel who had many years of experience. The results of the qualitative survey show that children react very individually on their parents' divorce. They also adapt and handle the divorce differently depending on the situation in the family. The respondents emphasized the importance of daycare personnel's role in supporting and encouraging children.
Kokoelmat