Shopping som en del av Helsingfors turistmarknadsföring
Packalén, Sofia (2014)
---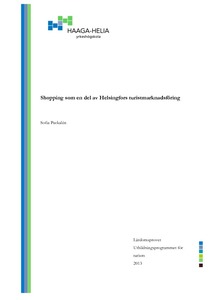 HAAGA-HELIA ammattikorkeakoulu
2014
All rights reserved
Julkaisun pysyvä osoite on
http://urn.fi/URN:NBN:fi:amk-201404043876
Tiivistelmä
Detta lärdomsprov görs i uppdrag av Helsingfors stads turist- och kongressbyrå och har som syfte att undersöka samarbetet mellan turismen och detaljhandelsföretagen i Helsingfors. Undersökningens mål är att ta reda på vilka turister som shoppar i Helsingfors, hur shoppingtemat för tillfället syns i marknadsföringen samt hur det kunde utvecklas ytterligare. I lärdomsprovet undersöks också hur eller genom vilka kanaler turisterna bättre kunde informeras om shopping i Helsingfors. Dessutom undersöks vad Helsingfors har att erbjuda som kunde vara speciellt intressant för shoppingturister. Lärdomsprovet har även som syfte att underöka om information på turistens eget språk i samband med shopping kunde ha en positiv inverkan på hur mycket pengar man spenderar på shopping.
Lärdomsprovet innehåller även en benchmarkingundersökning av shoppingmöjligheter i Köpenhamn. Syftet med benchmarkingen är att ta reda på hur shoppingen märks i marknadsföringen till turister i Köpenhamn, samt hur den ser ut i jämförelse med Helsingfors. I benchmarkingen görs även en SWOT analys av både Helsingfors och Köpenhamn.
Som metod för datainsamling används enkätintervjuer med olika turister som besöker Helsingfors. Resultatet ska ge olika förbättringsförslag och ideer för hur Helsingfors kan använda shoppingtemat effektivare i sin turistmarknadsföring.
This thesis was done on behalf of the Helsinki City Tourist & Convention Bureau and the purpose was to investigate the cooperation between tourism and retail companies in Helsinki. The survey aims to find out what kind of tourists shop in Helsinki, how the shopping theme is currently visible in the city's marketing activities, and how it could be developed further. The thesis also examines how tourists could be better informed about shopping in Helsinki and what channels could be used therefore. Additionally the study explores what Helsinki has to offer, which is especially interesting for shopping tourists. The thesis also aims to find out if information in the tourists' own languages, in the context of shopping, could have a positive impact on their shopping behavior.
The thesis also includes a benchmarking survey of shopping opportunities in Copen-hagen. The purpose of the benchmarking was to find out how shopping is noticeable in marketing directed to tourists in Copenhagen, and how it looked in comparison to Helsinki. The benchmarking also include a SWOT analysis of both Helsinki and Copenhagen.
The data collection method used was survey interviewing, comprising various tourists visiting Helsinki. The outcome of the study gives some improvement suggestions and ideas for how Helsinki could use the shopping theme more efficiently in its tourism marketing.
Kokoelmat