Medlemsundersökning för Förbundet Finlands Svenska Synskadade r.f.
Lindberg, Annika; Tillman, Anne (2014)
---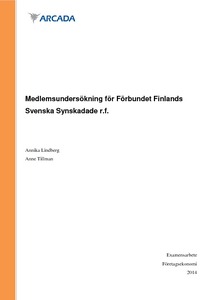 Lindberg, Annika
Tillman, Anne
Arcada - Nylands svenska yrkeshögskola
2014
All rights reserved
Julkaisun pysyvä osoite on
http://urn.fi/URN:NBN:fi:amk-201405137532
Tiivistelmä
Vid Finlands föreningsregister finns det ca 135 000 registrerade föreningar. Begreppet förening används för sammanslutningar som bildats för att dess medlemmar önskar tillvarata ett gemensamt intresse. Detta examensarbete gjordes på uppdrag av Förbundet Finlands Svenska Synskadade r.f. Förbundet, som för tillfället har ca 800 personmedlemmar, erbjuder bl.a. social verksamhet, rehabilitering, intressebevakning samt resursanskaffning för att underlätta vardagen för synskadade medlemmar. Syftet med detta examensarbete är att genom en undersökning utreda medlemmarnas åsikter och önskemål. Arbetet består av en teoridel samt en empiridel. I teorin behandlar vi ämnen som är av relevans för vårt arbete; begrepp som hör till utförandet av en undersökning, föreningsverksamhet samt den ekonomiska sidan av att driva ett förbund. I empiridelen presenterar vi genomförandet av undersökningen samt redovisar framkomna resultat. Vi behandlar även vilka posters i förbundets resultaträkning som skulle påverkas av förändringar i FSS tjänsteutbud. Undersökningen utfördes genom att intervjua 100 av förbundets medlemmar per telefon. Många av förbundets medlemmar var nöjda, medan andra kom med förbättringsförslag gällande bl.a. aktiviteter och tjänster. Eftersom förbundets sju distriktsföreningar är utspridda över Svenskfinland ville vi utreda hur detta påverkade medlemmarnas åsikter samt behov. Annat vi tog i beaktande vid resultatsammanställningen var åldersskillnaderna medlemmarna emellan. Vi önskar FSS skall kunna använda detta arbete som bas för vidare diskussion gällande planering och genomförandet av möjliga förändringar inom förbundet.
There are about 135 000 registered associations in the Finnish association records. An associations main goal is to work for a common interest among their members. This the-sis was commissioned by the Förbundet Finlands Svenska Synskadade r.f. The union, which currently has about 800 members, provides amongst other social activity and rehabilitating to facilitate the daily lives of its visually impaired members. This thesis aim was to use a survey to investigate members views and whishes. The work consists of a theo-retical part and an empirical part. In the theoretic part we deal with subjects that are of relevance to our work; concepts related to the performance of an survey, commonly about associations and the financial side of running a union. In the empirical part we present the implementation of the survey and present the results obtained. We also deal with witch posters of the union statement would be affected by changes in FSS services. The survey was conducted by interviewing 100 of the association's members by telephone. Many of the union members were satisfied, while others came up with suggestions for improve-ments, mainly concerning the activities and services. Since the unions seven district asso-ciations are spread across the Swedish speaking part of Finland we also wanted to inves-tigate how this affects the members opinions and needs. We also considered the age dif-ferences between the members when compiling the results. We hope FSS can use this work as a basis for further discussions regarding planning and implementation of possible changed in the covenant.
Kokoelmat