En varumärkes undersökning av klädföretaget Schoffa
Broman, Benny (2014)
---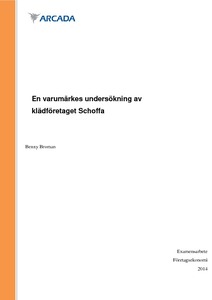 Arcada - Nylands svenska yrkeshögskola
2014
All rights reserved
Julkaisun pysyvä osoite on
http://urn.fi/URN:NBN:fi:amk-201405208855
Tiivistelmä
Det finns hur många klädbutiker som helst, och för att kunna stå ut ur massan av konkurrerande företag, kan det vara till stor hjälp att fastställa vad företagets varumärke står för. Ibland kan det vara helt klart för företaget vad de representerar men kunderna har nödvändigtvis inte samma uppfattning.
Examensarbetet gjordes på uppdrag av Schoffa som är ett finskt klädföretag. Företaget började sin verksamhet 2006 och affärsidén var att göra måttsydda skjortor för en krävande kundkrets, med passform och kvalitet. Syftet med undersökningen var att reda ut vad Schoffas kunder anser att företagets varumärke kommunicerar till dem. Undersökningen skedde på basen av Jennifer Aakers modell "Dimensions and brand personality" som grundar sig på personers beteende. Modellen användes tillsammans med en semantisk differentialskala som tillsammans bildade grunden för undersökningen. Som material användes litteratur om varumärken. Undersökningen begränsades till företagets nuvarande kunder. Resultatet berättade hur kunderna upplevde egenskaperna i förhållande till företagets egen syn. Resultatet gav en bra bild av helheten och hur läget ser ut idag.
There are many clothing stores, and in order to stand out from the mass of competing firms, it can be very helpful to determine what the company's brand stands for. Sometimes it can be quite clear to the company what they represent, but customers do not necessarily have the same view.
The work was commissioned by Schoffa which is a Finnish clothing company. The company began operations in 2006 and its mission was to make custom-made shirts for a demanding clientele, with the fit and quality. The purpose of the survey was to find out what Schoffas customers consider the company's brand communicates to them. The survey was based on Jennifer Aakers model "Dimensions and brand personality" based on people's behavior. The model was used in conjunction with a semantic differential scale, which together formed the basis for the investigation. The materials used included literature on brands. The investigation was limited to the company's current customers. The result told how clients experienced characteristics in respect of its own view. The result gave a good view of the big picture and how the situation looks today.
Kokoelmat