Socialpedagogisk handlingskompetens i arbete med barn i sorg : En litteraturstudie
Arell, Mira (2014)
---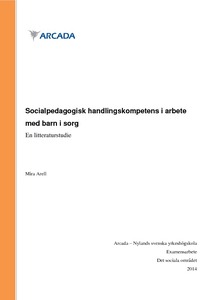 Arcada - Nylands svenska yrkeshögskola
2014
All rights reserved
Julkaisun pysyvä osoite on
http://urn.fi/URN:NBN:fi:amk-201405229377
Tiivistelmä
Syftet med denna studie är att utreda hurdana behov barn i sorg ger uttryck för samt hur man på ett socialpedagogiskt sätt kan svara på dessa behov. Arbetet fokuserar på barn i sorg och hur man med hjälp av de socialpedagogiska kompetenserna kan svara på dessa behov. Till den teoretiska referensramen hör Bent Madsens teori om de fem socialpedagogiska kompetenserna samt information om barn i sorg och barn som genomgått trauma och vilka behov dessa barn ger uttryck för. Arbetet är en litteraturstudie och som analysmetod används innehållsanalys. I arbetet användes 7 artiklar. Efter datainsamlingen utfördes litteraturöversikt, resultatredovisning och analys.
Resultatet visar att barn i sorg ger uttryck for olika sorters behov. Dessa behov inkluderar bland annat stöd från vuxna, bekräftelse och att bli sedda. I studien togs olika sorters praktiska metoder upp som kan användas i arbete med barn i sorg. Dessa praktiska arbetsmetoder är: storytelling, konst- och bildterapi, lekterapi och musikterapi. Dessa prak-tiska metoder kan tillämpas på Bent Madsens fem kompetenser. Man skall alltid använda sig av de fyra olika kompetenserna i kombination med handlingskompetensen. Mitt resultat är att man med framgång kan använda sig av praktiska metoder i arbetet med barn i sorg samt att dessa metoder går bra att kombinera med de fem socialpedagogiska kompetenserna.
The purpose of this study is to find out what needs children in grief expresses, and how to respond to these needs in a social-pedagogical way. This study focuses on grieving children and how to help them with help of the social-pedagogical action competences. The theoretical frame-work is Bent Madsen´s model of socio-pedagogical professional expertise. The work is a literature review and content analysis is the analysis method used. 7 articles are included in this study. After data collection literature review, the results and analysis were carried out.
The results show that children in grief expresses a vary of different needs. Examples of these needs include support from adults, recognition and a need to be seen. Different types of practical ways of working with children in grief was brought up in the study. These practical working methods are: storytelling, art therapy, play therapy and music therapy. These practical methods can be applied on Bent Madsen´s model of socio-pedagogical action competences. The four competenses should always be used with the fifth competense. My result is that it possible to successfully use the practical methods when working with children in grief and that it is possibly to combine these methods with the socio-pedagogical professional expertise.
Kokoelmat