Problem med praktik, eller bara fel taktik? : En undersökning av problem som kan uppstå i samband med praktikstudier för ekonomiestuderande i yrkeshögskolan Arcada.
Hongelin, Johannes (2014)
---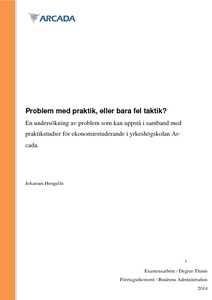 Arcada - Nylands svenska yrkeshögskola
2014
All rights reserved
Julkaisun pysyvä osoite on
http://urn.fi/URN:NBN:fi:amk-2014052810599
Tiivistelmä
Praktikstudier är en obligatorisk del av företagsekonomistudierna i yrkeshögskolan Arcada. Praktikstudierna är indelade i två praktikperioder, praktikperiod 1 och praktikperiod 2. Syftet med praktikstudierna är att skapa arbetserfarenhet från arbete som kan integreras med studierna. I arbetets teoretiska del genomgås studerandes personliga ekonomi, språkstudier i Arcada, riktlinjer och bestämmelser för godkänt praktikstudie samt Arcadas tjänster och stöd för praktikansökandet. I teorin används elektroniska källor.
Syftet med arbetet är att identifiera eventuella problem som kan uppstå i samband med praktikstudier för studerande på företagsekonomilinjen i Arcada. Arbetet gjordes som en kvalitativ och kvantitativ enkätundersökning och utfördes elektroniskt över internet. Enkätfrågorna är kategoriserade i fyra frågekategorier; ansökandet av praktikplats, studerandes personliga ekonomi under praktikstudier, språken under praktikstudier och kraven för godkännandet av praktikstudier. På enkätundersökningen svarade 30 personer varav 27 slutförde enkäten, endast de slutförda svaren togs i beaktande i resultatredovisningen. Av respondenterna var 19 kvinnor och 8 män. Undersökningsresultaten analyserades skilt i respektive frågekategorier. Flera problem som kan uppstå i samband med praktikstudier, kunde identifieras från undersökningsresultaten och man kan därmed säga att syftet med detta arbete uppfylldes.
Internship studies are a mandatory part of the business administration education at Arcada university of applied sciences. The internship studies are divided into two periods, internship period 1 and internship period 2. The purpose of internship studies is to gain experience of work that can be integrated with the university studies. Following things will be examined in the theoretical part of this research study; students personal economy during internship studies, language studies at Arcada, guidelines and regulations for approval of internship studies and services and support provided by Arcada to support the internship application process. Electronic sources are being used in the theoretical part.
The purpose of this research is to identify problems that may eventually occur during internship studies for students studying business administration at Arcada. This research study was performed as a qualitative and quantitative survey research over the internet. The survey questions were categorized into four categories; the internship applying process, student's personal economy during internship studies, languages during internship studies and requirements for approval of internship studies. The survey was answered by 30 students of which 27 completed the survey. Only the completed answers were taken into account in this research. The respondents consisted of 19 women and 8 men. The survey results were analyzed separately in the respective categories of questions. Several problems that may arise during internship studies were identified from the survey results and by that we may say that the purpose of this study was fulfilled.
Kokoelmat