Produktionen av ett seminarium : Praktikfall: Toinen Aalto 2013
Blomqvist, Heidi (2014)
---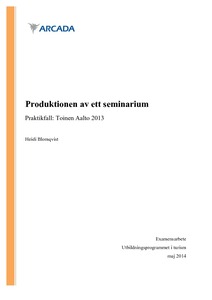 Arcada - Nylands svenska yrkeshögskola
2014
Creative Commons Attribution-NoDerivs 1.0 Suomi
Julkaisun pysyvä osoite on
http://urn.fi/URN:NBN:fi:amk-2014052810834
Tiivistelmä
Detta examensarbete är ett praktiskt examensarbete. Syftet med detta examensarbete är att tillsammans med uppdragsgivaren Funk Production Ab producera, genomföra och evaluera ett seminarium till Markkinnointiviestinnän Toiminnan Liitto MTL, samt att dokumentera hela arbetsprocessen. Detta evenemang är det andra av samma koncept. Ett av delsyftena är att förbättra konceptet samtidigt som man vill få nya idéer för framtida evenemang. Det andra delsyftet är att främja både uppdragsgivarens och kundens fortsatta evenemangsplaneringsarbete. Jag kommer att under bevakningen av min uppdragsgivare vara delansvarig för evenemangets producering samt se till att planeringen framskrider som det skall. I examensarbetet beskrivs de olika faserna för evenemangsplaneringen och hur själva evenemangets arrangerade framskridit. Den teoretiska referensramen består av teorier om evenemangsplanering och projektledning. Seminariet är ett utbildningstillfälle med flera talare från olika branscher, alla med expertis på marknadsföring inom deras egen bransch. Seminariet Toinen Aalto ordnades i Mässcentret, Helsingfors 1.10.2013.
Trots ett få antal fördröjningar och hot var alla i planeringsgruppen mycket nöjda med arbetsprocessen och själva evenemanget.
This thesis is a practical work. The main aim of this study is in co-operation with Funk Production Oy to plan, produce and evaluate a seminar to Marketing Association in Finland (MTL), and document the entire work process. This event is the second of its kind of same concept. The first part aim is to improve the concept while creating new ideas for future events. The second part aim is to improve both the taskmaster's and the client's on-going partnership and working methods. I will be under the surveillance of Funk Production partially responsible for producing the event and ensure that the planning is progressing, as it should be. In the thesis describes the different phases of event planning and how the event is organized progressed. The theoretical framework consists of theories about event planning and project management. The seminar is an educational event with several professional speakers from different industries, all with expertise in marketing within their own industry. The seminar Toinen Aalto 2013 was organized in Messukeskus, Expo and Convention Centre in Helsinki 1.10.2013.
Despite a small number of delays and threats all of the planning group members were very pleased with the work process and the event itself.
Kokoelmat