Hjärtrytmrubbningar: Patienters erfarenhet av att drabbas av en arytmi, deras upplevelse och bemötande av vården.
Ivars - Häggqvist, Therese (2022)
---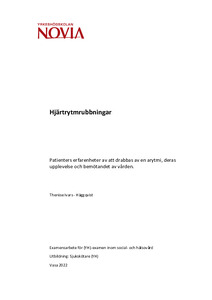 Ivars - Häggqvist, Therese
2022
All rights reserved. This publication is copyrighted. You may download, display and print it for Your own personal use. Commercial use is prohibited.
Julkaisun pysyvä osoite on
https://urn.fi/URN:NBN:fi:amk-2022112724335
Tiivistelmä
Studien handlar om hjärtrytmrubbningar och vilka erfarenheter personer med arytmier har kring vården av dem. Syftet med examensarbetet är att få bättre kunskap om hur olika personers upplevelser av hur patienter med arytmier bemöts av vården och hur de vill bli bemötta.
Frågeställningarna i studien var: Vilka erfarenheter har personer av att få en arytmi? Vilket bemötande har personer med hjärtarytmier fått av hälso- och sjukvården?
I studien insamlades data och analyserades sedan genom kvalitativ innehållsanalys.
Innehållet i bakgrunden och de tidigare studierna består av litteratur och vetenskapliga artiklar som ger grundläggande kunskap om arytmier och kortfattat kring olika tidigare studier. Först beskrivs allmänt ett friskt hjärtas uppbyggnad och hur det normalt fungerar. Därefter belyses kort olika arytmier som kan drabba hjärtat och ge förändringar i dess rytm, arytmier. Datainsamlingen till denna studie så har gjorts genom intervjuer av 6 personer i åldern 26–43 år.
Resultatet och slutsatserna av denna studie beskriver informanternas erfarenheter av att ha arytmier samt deras egna upplevelser. Resultatet som framkom i studien är att flera upplever att de i begynnelsen inte har blivit tagna på allvar och att läkare/vårdpersonal inte trott på dem eller förminskade deras problem. Brist på stöd upplevdes för lite. Upplevelsen av ängslan, oro och en stor stress med trötthet över att känna det är något fel i hjärtrytmen har informanterna gemensamt.
Nyttan med studien är att synliggöra upplevelse av arytmi och även bemötandet från sjukvården. Detta bidrar till att öka förståelsen för patienters upplevelser av arytmier och hur man bättre kan bemöta patienter som drabbas av hjärtarytmi.
Arytmier sker i vilken ålder som helst och sjukskötare träffar på många olika patienter. Det är viktigt att uppmärksamma arytmier och få en tidig klarhet om dessa. Sjukskötaren träffar många patienter i sin vårdvardag och är en viktig länk i vårdkedjan i att förbättra arytmipatienters upplevelse av vården.
The aim of the study was to highlight the heart rhythm disorders and what experiences people with arrhythmias have regarding their care. The aim of the degree project is to gain better knowledge of how different people's experiences of how patients with arrhythmias are treated by healthcare and how they want to be treated. The questions in the study were: What experiences do people have of getting an arrhythmia? How have people with cardiac arrhythmias been treated by the healthcare system? In the study, data was collected and then analyzed through qualitative content analysis.
The content of the background and the previous studies consists of literature and scientific articles that provide basic knowledge about arrhythmias and briefly about various previous studies. First, the structure of a healthy heart is generally described and how it normally works. Next, different arrhythmias that can affect the heart and cause changes in its rhythm and different arrhythmias are briefly highlighted. The data collection for this study has been done through interviews with 6 people aged 26-43.
The results and conclusions of this study describe the informants' experiences of having arrhythmias as well as their own experiences. The result that emerged in the study is that several feel that they were not taken seriously in the beginning and that doctors/medical staff did not believe in them or minimized their problems. Lack of support was perceived too little. The experience of anxiety, worry and a great deal of stress with fatigue from feeling that there is something wrong with the heart rhythm are some of the things common to the informants.
The benefit of studies is to make visible the experience of arrhythmia and also the treatment from the healthcare system. This contributes to increasing the understanding of patients' experiences of arrhythmias and how to better respond to patients suffering from cardiac arrhythmias. Arrhythmias occur at any age and nurses encounter many different patients in their daily care. It is important to pay attention to arrhythmias and get an early diagnosis of these. The nurse meets many patients in their everyday care and is an important link in the care chain in improving arrhythmia patients' experience of care.
Kokoelmat