Konditionsgranskning av parkbroar i trä
Backholm, Annette (2023)
---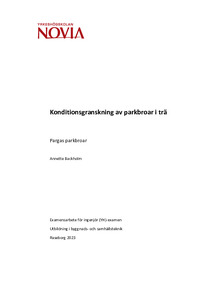 2023
Julkaisun pysyvä osoite on
https://urn.fi/URN:NBN:fi:amk-2023092526329
Tiivistelmä
Examensarbetet omfattar konditionsgranskning av Pargas stads parkbroar i trä. Broarna har stor betydelse för den lätta trafiken och binder samman Pargas centrum på tre olika ställen. Examensarbetet har skett i samarbete med Pargas stad och har tyngdpunkten på konditionsgranskningen.

Examensarbetet behandlar även kortfattat träbroar i allmänhet samt ger en inblick i historien om Pargas träbroar i den mån det gått att hitta information.

Målet med examensarbetet var att göra en grundlig genomgång av träbroarnas kondition och ge förslag på vad som möjligen kan åtgärdas. Konditionen i sig var inte överraskande, men en grundlig genomgång har gett en noggrann inblick i broarnas kondition i dagsläget.

Examensarbetet omfattar undersökning med resistograf. Med tillförlitliga mätningar kan en plan för renovering och möjligt förnyande av broarna göras.

Beställning av den nya bron över Pargas centralparks damm ingick även i arbetet. Offertförfrågan är gjord på nya limträbalkar och en offert har lett till beställning.

Resultatet av detta examensarbete är en rapport över tre av fyra parkbroar i trä i Pargas och ett beslut om att förnya den fjärde bron sommaren 2023. Den nya brons första idéskiss finns med i detta arbete och ger en överblick över hur den nya bron kommer att se ut.

The aim of this Bachelor's thesis was been to conduct an inspection of the condition of the timber bridges in the parks in Pargas. The bridges combine Pargas' downtown for light traffic on three locations. The thesis was a cooperation with the city of Pargas and the focus was on the review of the bridges. The thesis also included an overview of timber bridges in general and provided some history of Pargas' timber bridges.

The purpose of the thesis was to conduct a thorough inspection of the bridges' condition and to make suggestions for further actions. The condition of the bridges was not a surprise, but a thorough review gave a deep insight into the conditions of bridges today.

The thesis work includes an inspection made with a Resistograph. With reliable measurements a plan can be made for renovation and possible re-building of the bridges.

The ordering of a new timber bridge over the pond in the Central park of Pargas was also included in this thesis. Offer requests for new timber beams have been received and one led to an order.

The result of this thesis was a condition-report over three out of four timber bridges in Pargas. A decision to rebuild the pond bridge in the summer of 2023 was made based on the results. The first sketch of the new bridge was included in this thesis and provided an idea how the new bridge will be built.
Kokoelmat