TREPARTSHANDEL INOM EU : Den finländska mellanmannens deklaration
Manns, Linda (2014)
---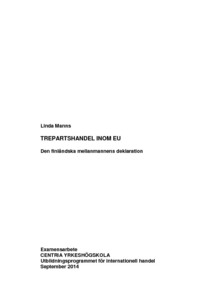 Centria ammattikorkeakoulu (Keski-Pohjanmaan ammattikorkeakoulu)
2014
All rights reserved
Julkaisun pysyvä osoite on
https://urn.fi/URN:NBN:fi:amk-2014100114378
Tiivistelmä
Som uppdragsgivare för detta examensarbete har Ab Norlic Oy fungerat. Norlic är ett väletablerat företag som har sitt huvudsäte i Jakobstad och ett tiotal sidokontor belägna runtom i Österbotten. Företagets verksamhet utgörs i huvudsak av ekonomiförvaltnings-tjänster.
Norlics önskemål var att erhålla en rapport där ämnet trepartshandel och mellanmannens deklaration undersöks och analyseras ur olika intressenters perspektiv. Ämnet har varit aktuellt eftersom det vid upprepade tillfällen medfört en del komplikationer för företaget och dess kunder.
För att uppnå utsatta mål genomfördes en enkätundersökning bland österbottniska företag och bokföringsbyråer. I undersökningen låg fokus på mellanmannens erfarenheter av och uppfattningar om deklarationen i samband med trepartshandel. Utöver denna undersökning genomfördes också en mindre omfattande studie över några EU-länders hantering av motsvarande deklarationer.
Resultaten av den genomförda enkätundersökningen visade att de trepartsidkande företagen i Österbotten hade erhållit irrelevanta utredningsuppmaningar från Skatte-förvaltningen och att berörda parter i viss mån hade lagt ner betydande resurser på att behandla uppmaningarna. Resultaten pekade samtidigt på att Skatteförvaltningens anvisningar gällande ämnet ifråga ansågs vara tydliga och att man inte hade erfarit några vidare komplikationer till följd av utredningsuppmaningarna. Resultatet från de analyserade EU-länderna visade på liknande erfarenheter som i Finland, men hos ett par länder även på konstruktivare handlingar i form av utvecklade periodskattedeklarationer.
The instructor of this thesis was Ab Norlic Oy. Norlic is a well-established company with the main office situated in Pietarsaari and with several side offices around Ostrobothnia. The company mainly offers financial administration services.
The request of the company was to receive a report where the subject triangulation in the European union and the declaration of the intermediate supplier was examined and analyzed from different stakeholders' point of view. The subject has been an actual problem to the company since it has caused complications several times.
To receive the set goals a survey was conducted among local companies and accounting companies in Ostrobothnia. The focus was on the intermediate suppliers' experiences of and opinions about the declaration in triangulation business. Despite the survey, another less comprehensive investigation was done among a few member states of the EU, where their handlings of similar declarations were analyzed.
The results of the survey showed that the Ostrobothnian companies involved in triangulation business had received irrelevant investigation requests from the tax authorities and to solve them both financial and human resources were spent. In accordance with these slightly negative results, the respondents were satisfied with the instructions about the triangulation declaration given by the tax authorities and the investigations mentioned above hadn't caused any further problems. The results from the investigations among other EU member states showed that problems similar to them in Finland were experienced occasionally and that a few of the states had solved the problem more constructively by developing their VAT returns.
Kokoelmat