Handhygien i patientsäkert syfte : litteraturstudie
Lindqvist, Frida; Smeds, Jannike (2014)
---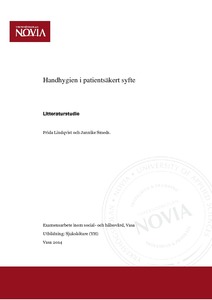 Lindqvist, Frida
Smeds, Jannike
Yrkeshögskolan Novia
2014
All rights reserved
Julkaisun pysyvä osoite on
http://urn.fi/URN:NBN:fi:amk-2014112616932
Tiivistelmä
Syftet med det här examensarbetet är att söka fram aktuell fakta om handhygien samt ta reda på hur vårdpersonal kan förhindra de vårdrelaterade infektionerna så att patientsäkerheten höjs. Respondenterna ville ta fram information till olika vårdanstalter om hur man genom god handhygien skall minska de vårdrelaterade infektionerna. Målet med arbetet är att öka vårdpersonalens kunskap inom handhygienen.
Forskningsfrågan är: På vilket sätt kan man minska de vårdrelaterade infektioner och där igenom höja patientsäkerheten via en god handhygien?
De teoretiska utgångspunkterna är caritativ vård av Eriksson (1990, 1997) samt vårdlidande utgående från Eriksson (1994). Det är en kvalitativ studie och datainsamlingsmetoden är en litteraturstudie som består av olika vetenskapliga artiklar. Artiklarna som blev valda har sammanställts i resumén (bilaga 1). De vetenskapliga artiklarna analyserades med hjälp av innehållsanalys. När resultatet var sammanställt tolkades det utifrån de teoretiska utgångspunkterna samt utifrån den teoretiska bakgrunden.
Resultatet visar vilka brister det finns inom handhygien i vården samt vad man bör åtgärda för att förbättra den. Resultatet består av fyra områden. Det första är att öka kunskapen inom handhygien och underkategorier är att öka kunskapen via arbetet som behandlar handhygien samt övriga sätt att öka kunskapen inom handhygien. Det andra området är attityd och underkategorierna är inställning till handhygien, eget ansvar samt förebilder. Det tredje området är omgivning och underkategorierna är utrustning samt arbetstyngd. Det fjärde och sista området är evidensbaserad handhygien och underkategorierna är handskar samt desinficering och tvättning av händerna.
The purpose of this thesis is to find out the current facts of hand hygiene and find out how caregivers can prevent the nosocomial infections and thereby enhance the patient safety. The respondents want to collect information for different wards about how to preform good hand hygiene and thereby reduce the nosocomial infections. The aim of the work is to increase healthcare providers knowledge about hand hygiene.
The research question is: How can you reduce the nosocomial infections and thereby increase the patient safety through good hand hygiene?
Respondent's theoretical premises are caritativ care from Eriksson (1990, 1997) and health suffering starting from Eriksson (1994). The data collection has been carried out as a literature study consisting of scientific articles. Articles that were selected were compiled into a summary (Appendix 1). The scientific articles have been analysed using content analysis.
When the result was compiled, the result was interpreted against the theoretical framework and background.
The result shows what deficiencies there are in hand hygiene and what measures are to be taken to improve it. The result consists of four areas. The first is to increase the knowledge in hand hygiene and the subcategories are increasing knowledge through the work that deals with hand hygiene and other ways to increase the knowledge in hand hygiene. The second area is the attitude and the subcategories are posture to hand hygiene, own responsibility and role models. The third area is environment and the subcategories are equipment and workload. The fourth and final area is evidence-based hand hygiene and the subcategories are gloves, disinfection and washing of hands.
Kokoelmat