Etik och marknadsföring i bloggar : Var går gränsen för smygreklam?
Hellman, Anna (2014)
---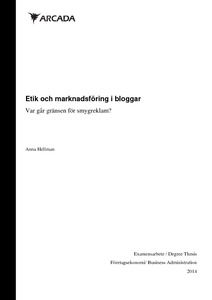 Arcada - Nylands svenska yrkeshögskola
2014
All rights reserved
Julkaisun pysyvä osoite on
http://urn.fi/URN:NBN:fi:amk-2014112616826
Tiivistelmä
Syftet med detta examensarbete är att belysa marknadsföringen i bloggar och dess etiska problem. Avsikten är att redogöra för var gränsen för smygreklam går och att få reda på hur mycket bloggarna känner till om ämnet. Bloggarnas andel av sociala medier samt mängden bloggläsare har vuxit explosionsartat. Marknadsföring och reklam i soci-ala medier har vuxit i och med populariteten av sociala medier bland folket. På grund av den ökade marknadsföringen i bloggar har smygreklam uppstått. Eftersom gränsen mel-lan smygreklam och laglig reklam är smal, undersöker detta examensarbete bloggarnas inställning, moral och etik gällande smygreklam. Undersökningen avgränsas till att in-tervjua endast lifestyle- och modebloggare. Examensarbetet baseras på bloggarnas åsik-ter och erfarenheter, samt på vad lagen säger om marknadsföring i bloggar. Tidigare var bloggandet en hobby, men i och med marknadsföringen i bloggar finns det nuförtiden hobby- och yrkesbloggare. Problemet med identifieringen av smygreklam i en blogg uppstår eftersom bloggare ofta självmant skriver gott om produkter och tjänster som de tycker om. Ett ytterligare problem är att myndigheterna inte har resurser för att övervaka smygreklam och att det är mycket svårt att kontrollera. Teoridelen omfattar en 1) jämfö-relse mellan traditionell och ny marknads-kommunikation, 2) presentation av sociala medier, 3) presentation av problematiken med smygreklam och 4) presentation av juri-diska aspekter relaterade till marknadsföring i sociala medier. Undersökningen har ut-förts med hjälp av kvalitativa intervjuer med noggrant utvalda bloggare. Respondenter-na är 22 – 30 åriga kvinnor som alla är hobbybloggare. Resultatet anger att bloggare känner till de allmänna reglerna om marknadsföring och har lärt sig att handla enligt dem. Trots detta, lämnar lagen mycket upp för tolkning och det finns ett behov för kla-rare juridiska regler eller riktlinjer inom branschen.
The purpose of this thesis is to discuss marketing in blogs and the ethical problems related to it. The intent is to describe where the line is drawn for surreptitious advertising and to get an understanding of the bloggers knowledge of the subject. The bloggers share of the social media has grown explosively. Marketing and advertising in social media have grown thanks to the popularity of social media among the people. Because of the increased marketing in blogs, also surreptitious advertising occurs. Since the line between legal and surreptitious advertising is fuzzy, this study examines the bloggers mind set, moral and ethics regarding surreptitious advertising. The study is limited to only interviewing lifestyle- and fashion bloggers. The study is based on their opinions and experiences, and on the laws and regulations on marketing. Earlier blogging was only a hobby, but with marketing in blogs, there are today both hobby and professional bloggers. The problem with identifying surreptitious advertising in blogs occurs because bloggers on their own initiative write recommendations about products and services they like. The problem is that advertisements are written in similar manner. A further problem is that the authorities don't have the resources to monitor surreptitious advertising and that it is very difficult to control. The theory comprises 1) a comparison of the traditional and new marketing communications, 2) presentation of social media, 3) presentation of the problems surrounding surreptitious advertising and 4) presentation of the legal aspects. The survey is conducted using qualitative interviews with carefully selected bloggers. The respondents are women aged 22-30 and they are hobby bloggers. The result indicates that the blogger usually is aware of the general rules of marketing and has learned to act upon them. Despite this, the law leaves much up to interpretation and there is a great need for clearer rules, either in the law or as guidelines within the sector.
Kokoelmat