Kundtillfredsställelse i Kb Ollas Bokföring Ky
Westerholm, Sandrine (2014)
---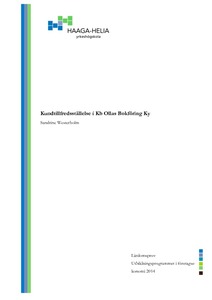 HAAGA-HELIA ammattikorkeakoulu
2014
All rights reserved
Julkaisun pysyvä osoite on
https://urn.fi/URN:NBN:fi:amk-2014120418342
Tiivistelmä
Syftet med lärdomsprovet var att undersöka vad kunderna hos Kb Ollas Bokföring Ky ansåg om tjänsterna som erbjuds. Det kollades också vad de yngre kunderna ansåg om tjänsterna gentemot de äldre.
Den teoretiska referensramen består av teori om tjänster och tjänstekvalitet. Som källor användes böcker och internetsidor som behandlade ämnena kundtillfredsställelse, undersökningsmetoder, tjänster osv. Exempel på författare inom områdena var Grön-roos och Echeverrri & Edvardsson.
Undersökningen genomfördes med hjälp av ett frågeformulär som delades ut åt kun-derna vid besök på kontoret i samband med konsultationen. Om frågeformulären glömdes att dela ut skickades de per post åt kunden tillsammans med ett frankerat ku-vert.
Resultaten av undersökningen visade att kunderna är tillfredsställda och nöjda med tjänsterna och företaget i fråga. Då man jämförde de yngres åsikter mot de äldres visade sig att de yngre inte var lika kritiska som de äldre, men båda var nog ändå nöjda.
Slutsatsen var att kunderna nog är tillfredsställda med Kb Ollas Bokföring Ky och dess tjänster. Förbättringsförslag kom det inte heller så mycket, så det betyder att kunderna inte kräver några konkreta förändringar i tjänsterna.
The objective of this survey was to discover what the customers thought of the service provided by Kb Ollas Bokföring Ky, a bookkeeping agency. The study also focused on whether younger customers' views deviated from older customers' opinions.
The theoretical framework is based on literature and websites handling topics such as customer satisfaction, survey methods, and services. Examples of authors in these fields are Grönroos and Echeverri & Edvardsson.
The survey was carried out in the form of a printed questionnaire which was given to the customers when they visited the office for consultation. In cases when the ques-tionnaire was not given in person it was sent by mail to the customer together with a stamped envelope addressed to the author of this study.
The result of the survey shows that the customers are satisfied and pleased with the services and company. When comparing young and older customers' opinions it is evi-dent that the young customers are not as critical towards the services as the older ones, yet both categories are still satisfied.
In conclusion, customers are satisfied with Kb Ollas Bokföring Ky and their services. No major improvement suggestions were put forward, which mean that the customers do not request any particular changes in the service concept.
Kokoelmat