Hjärtrehabiliteringens inverkan på den hälsorelaterade livskvaliteten hos patienter som lider av hjärt- och kärlsjukdom : En systematisk litteraturstudie
Lalin, Maria (2014)
---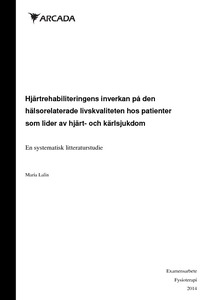 Arcada - Nylands svenska yrkeshögskola
2014
All rights reserved
Julkaisun pysyvä osoite on
http://urn.fi/URN:NBN:fi:amk-201501071058
Tiivistelmä
Hjärtsjukdom är en ledande dödsorsak i industriländer världen över. Hjärtehabilitering visar sig ha positiva effekter på dödlighet efter en hjärthändelse. Målen med hjärtrehabilitering är att minska sjuklighet och dödlighet men också öka den hälsorelaterade livskvaliteten. Hälsorelaterad livskvalitet kan mätas med olika frågeformulär, varav ett är SF-36 som anses vara ett passande formulär för hjärtpatienter.
Syftet med studien är att belysa rehabiliteringens inverkan på hälsorelaterad livskvalitet hos patienter som genomgått hjärtrehabilitering. Frågeställningarna som besvaras är:
1. Hur är fysioterapin beskriven i litteraturstudiens artiklar? 2. Hur påverkas den hälso-relaterade livskvaliteten av hjärtrehabilitering? 3. Vilka av de åtta domäner i frågefor-muläret SF-36 har visat sig ge goda resultat efter hjärtrehabilitering?
Sökning har skett i PubMed, PEDro, Cinahl, Karolinska universitetssjukhusets databas, Google Scholar och manuella sökningar för att hitta relevanta artiklar att inkludera i littera-turstudien.
Varje artikel beskriver fysioterapin på olika sätt: hembaserad vs sluten rehabilitering och kort vs lång rehabilitering. Innehållet i SF-36:s åtta domäner svarar på hur rehabiliteringen påverkar livskvaliteten. Den fysiska komponenten visade sig ha mer signifikant förbättring än den mentala.
Heart disease is a leading cause of death in industrialized countries around the world. Cardiac rehabilitation shown to have positive effects on mortality after a cardiac event. The goals of cardiac rehabilitation are to reduce morbidity and mortality but also improve health-related quality of life. Health-related quality of life measured with different ques-tionnaires, one of them is SF-36 and is considered to be a suitable form for heart patients.
The purpose of this study is to highlight the impact of rehabilitation on health-related quality of life in patients undergoing cardiac rehabilitation. The questions to be answered are: 1. How is physiotherapy described in the included articles? 2. How is the health-related quality of life of cardiac rehabilitation? 3. Which of the eight domains in SF-36 questionnaire has been shown to give good results after cardiac rehabilitation?
Search has been done in PubMed, Pedro, Cinahl, the database of Karolinska University Hospital, Google Scholar and manual searches to find relevant articles to include in the systematic review.
Each article describes physiotherapy in different ways: home-based vs. in-patient rehabil-itation and short vs. long rehabilitation. The content of the SF-36's eight domains respond to the rehabilitation affects the quality of life. The physical component appeared to have more significant improvement than the mental component.
Kokoelmat