Viking Lines Konferenstjänster : En benchmarking undersökning
Hudák, Nicole (2015)
---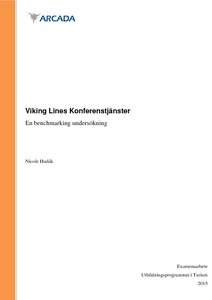 Arcada - Nylands svenska yrkeshögskola
2015
All rights reserved
Julkaisun pysyvä osoite on
http://urn.fi/URN:NBN:fi:amk-201501301775
Tiivistelmä
Affärsturism är ett brett begrepp. Allt från belöningsresor och evenemang till stora konferenser.
Affärsturism sysselsätter milliontals med människor runt om i världen och är det största marknadssegmentet för många destinationer. Idag har affärsturism ett mera
proffesionelt och arbetsrelaterande ändamål. Finland har även blivit känt för att vara ett populärt konferensland på grund av dess hög kvalité på service och pålitlighet.
Viking Line uppfattas som hela folkets flotta och det kan det vara svårt att segmentera produkter för kunder. Syftet med detta arbete är att kartlägga Viking Lines konferenstjänsters
konkurrenskraft jämfört med det konkurrerande företaget Tallink Silja. Arbetets avgränsning är på Helsingfors-Stockholm rutten för den behöver mest utveckling.
Arbetets delsyfte är hur konferenstjänsterna skiljer sig, samt vad påverkar och avgör valet av rederi.
Arbetets teorigrund baserar sig på konferenstjänstens olika komponenter. Dessa är b.la konferensutrymme, servering, logi, teknik och socialt program. Som litteraturkällor har b.la Aarrejärvi, Komppula & Boxberg refererats till. För datainsamling har en kvalitativ metod använts i samband med egna observationer.
Undersökningens reslutat visar sig att konferenskunder utgår från konferensutrymmet vid bokning av konferensresor. Konferensutrymmet väljs beroende på konferensens natur
och deltagar antal. Priset har inte en stor betydelse i valet av rederi. De värdesätter bra kundservice och personlig kontakt. Konferenskunderna har varierande åsikter angående
vad de värdesätter av rederierna och utgår från vad deras organisation står för.
Business tourism is a broad concept. It consists of incentive travel, events and big confer-ences. Business tourism employs millions of people around the world and is one of the biggest segments for many destinations. Today business tourism is more professional and work-related. Finland has also put its marks on the global map and has become a popular conference country because of its high quality services and reliability.
Viking Line is perceived as the cruise company for everyone. It can be hard to segment products for customers. The aim of this study is to benchmark Viking Lines conference services compared to the competing cruise company Tallink Silja. The study is focused on the route Helsinki-Stockholm because it requires more development. The research also outlines how these services differ and what affects the choice of company.
The theory in this study consists of the components that a conference should consist of. Some of these are conference facility, restaurant services, technology and social activi-ties. Some of the sources used in this thesis are Aarrejärvi and Komppula & Boxberg. A qualitative research method was used with implementation of personal observations.
The results show that the conference customers start with looking at how the conference facility fits with the segment and size of the group. The conference facility is chosen ba-sis on the purpose of the travel. The price does not affect the choice of the cruise line. Customers value good customer service and personal contact. The customers have very different opinions concerning what they value from a cruise line and the base for choos-ing the cruise line is according to what the organization stands for.
Kokoelmat