A Maintenance Management System : Optimization of a data loading process
Anderson, Dennis (2015)
---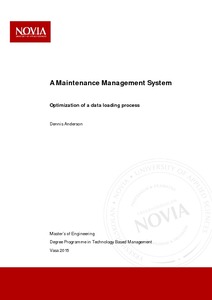 Yrkeshögskolan Novia
2015
All rights reserved
Julkaisun pysyvä osoite on
https://urn.fi/URN:NBN:fi:amk-201504234813
Tiivistelmä
The purpose of this study is to analyse a specific deployment process, how it was built up
and how it worked since there was a need to optimize the process to reduce the risks in the
process and to reduce both costs of loading and time spent.
The background to this thesis is that an old maintenance management system is being
replaced with a new one in order for the system to have the needed flexibility and quality
to support the growing business and the growing focus on quality, efficiency and larger
volumes.
The optimization of data loading process is based on literature studies in business process
improvement, risk analysis and risk management. The optimization was executed through
a risk assessment study with action plans and the usage of the 12 streamlining
cornerstones.
The results of the study includes mapping of skills, graphs showing the reduction of both
loading cost and time spent and the different improvements that have been done to the
process. The results were measured over a time of 7-9 months depending on type of data
loading.
Syftet med detta arbete är att analysera hur grupperingsprocessen är uppbyggd och hur
den fungerar eftersom det fans ett behov för att optimera denna process för att reducera
riskerna, dataladdningskostnaderna och tidsåtgången.
Bakgrunden till arbetet är att vårt gamla underhållssystem byts ut mot ett nytt system som
är tillräckligt bra och flexibelt för att kunna klara av det växande antalet affärer och den
ökande fokusen på kvalitet, effektivitet och högre volymer.
Optimeringen av dataladdningsprocessen är baserad på litteratur studier inom
affärsprocessförbättringar, riskanalys och riskhantering. Optimeringen utfördes genom en
riskanalys med åtgärdsplan samt genom användandet av rationaliseringens 12 stötestenar.
Arbetets resultat inkluderar kartläggning av färdigheter, grafiskt material förevisande
reducering av både laddningskostnader och tidsåtgång samt på vilka olika sätt processen
har förbättrats. Resultaten mättes under en tidsperiod av 7-9 månader beroende på vilken
typ av dataladdning.
Kokoelmat