Guide for strength analysis of EPS compactor
Marchena Hurtado, Ander (2015)
---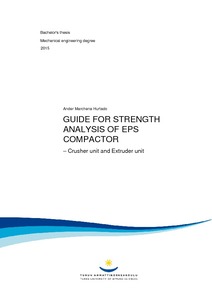 Turun ammattikorkeakoulu
2015
Creative Commons Attribution 3.0 Unported
Julkaisun pysyvä osoite on
http://urn.fi/URN:NBN:fi:amk-201504234809
Tiivistelmä
This thesis is a guide to strength calculations of the EPS compactor device designed in the MTC. These calculations have been made first theorically with Microsoft Office Excel, and after with SolidWorks Simulation module. This compactor was designed to compress EPS rough material to lower the delivery costs that its recycling usually involves. Since input values and numbers are not completely defined, assumptions have been made and numbers can change in the proper final calculation, once all the exact input data is defined.
Strength calculations have been separated in two main parts: the crusher unit and the extruder unit. The crusher unit breaks the EPS material into much smaller pieces, and the extruder unit just pushes and mixes this small material through the dye for it to be compressed.
In the first chapter the goals of the device (Main goals and technical goals), the goals of the project (EPS compactor design), as well as the goals of this thesis have been explained. The second chapter covers the main characteristics, theoretical background with references, behavior, parameters and chosen versions of the two main parts of the EPS compactor.
The third chapter covers all the calculations. These calculations have been made in several stages, first of all it has been made assumptions and theoretical calculations. After that, it has been made a FEM calculation of a small piece/element of the part, and the FEM calculation results were compared to the previous theoretical results. Then it has been made a FEM calculation of the whole part and the results given were compared again to the theorical calculations. After that, rough conclusions of the results and fatigue analysis have been made.
The fourth chapter covers main conclusions and diagnosis of the whole calculations.
Este Proyecto de fin de grado es una guía a los cálculos resistentes de un dispositivo compactador de EPS diseñado en el MTC (Machine Technology Center of Turku). Estos cálculos has sido realizados en primer lugar teóricamente utilizando Microsoft Excel, y luego utilizando el módulo de simulación de SolidWorks. Este compactador fue diseñado para comprimir material EPS (poliexpán llamado comúnmente) en bruto, para disminuir su volumen, y así los costes de transporte que implica su reciclaje. Como los datos iniciales y valores no están del todo definidos, se han hecho las suposiciones pertinentes y los números podrían variar en los cálculos finales una vez que todos los datos estén definidos.
Los cálculos de Resistencia se han dividido en dos partes principals: la unnidad de triturado, y la unidad de extrusión. La unidad de triturado rompe el material EPS de entrada en pequeños gránulos, y la unidad de extrusión simplemente empuja y mezcla estos diminutos trozos comprimiéndolos hasta expulsarlos por el dado.
En el primer capítulo se definen los objetivos del dispositivo diseñado (objetivos principales y objetivos técnicos), los objetivos del proyecto (diseño del compactador EPS) y los objetivos de este proyecto de fin de grado. El segundo capítulo aborda las características principales, trasfondo teórico con referencias, así como comportamiento, parámetros y versiones escogidas de las dos piezas principales del compactador EPS.
El tercer capítulo consta de los propios cálculos. Estos cálculos han sido realizados en diferentes etapas, en primer lugar se han hecho las suposiciones y los cálculos teóricos. Después de eso, se ha hecho una simulación FEM de una pequeña muestra de un solo elemento de la pieza, que se ha comparado con los anteriores resultados teóricos. Tras esto, se ha hecho una simulación FEM de la pieza entera y los resultados se han comparado de nuevo con los resultados teóricos. Por último se han sacado conclusiones de dichos cálculos y comparaciones, y se ha hecho un análisis de fatiga superficial.
El cuarto capítulo consta de las conclusiones principales y el diagnóstico de todos los resultados.
Gradu amaierako proiektu hau MTC-en (Machine Technology Center of Turku) egindako EPS konpresore baten kalkulu erresistenteetarako guida bat da. Kalkulu hauek egin dira Microsoft Excel programarekin lehenik eta behin, eta geroago SolidWorks Simulation moduluarekin. Konpresore hau diseinatu da EPS materiala (poliexpan ere deituta) konprimatzeko, bere bolumena gutxitzeko eta modu honetan, birziklatzeko garraio kostuak jaisteko. Hasierako datuak eta balioak ez daude guztiz definituta, horregatik, ganierako datuak suposatu egin dira eta amaierako emaitzak aldatu liteke behin hasierako balio guztiak definituta egoterakoan.
Kalkulu erresistenteak bi zati nagusietan zatitu dira: birringailu unitatea, eta estrusio-unitatea. Birringailua txikitzen du sartutako EPS materiala granulo txikietan, eta estrusio unitateak bultzatu eta nahastu egiten ditu, konprimitzen diren bitartean amaieran dagoen dadotik pasa arte .
Lehenengo atalburuan, diseinatutako makinaren helburuak (helburu nagusiak eta helburu teknikoak), proiektuaren helburuak (EPS konpresore proiektua) eta gradu amaierako proiektu honen helburuak zehaztu dira. Bigarren atalburuan, bi zatien propietate nagusiak, azalpen teorikoak etqa bere aipamenak, eta piezen portaera, parametroak, eta hautatutako bertsioak azaltzen dira.
Hirugaren kapituluan kalukuluak agertzen dira. Egin dira zati bat baino genhiagotan. Lehenik, suposizioak egin dira eta eskuz egindako (Excelekin) kalkulu teorikoen jarduera egin da. Ondoren, FEM simulazio bat egin da piezaren elementu soil eta txiki batekin, eta emaitza horiek lehen egindako emaitza teorikoekin konparatu dira. Hori egin eta gero, FEM simulazio bat egin da pieza osoarekin eta emaitzak berriro konparatu dira lehen lortu diren emaitza teorikoekin. Azkenik, emaitza eta konparazio horietatik konklusioak atera dira, eta azaleko neke-analisia egin da.
Laugarren kapituluan konklusio nagusiak eta kalkuluen diagnosia ageri dira.
Kokoelmat