Community of Practice in Martial Arts in Finland from 2013 to 2014
Kaukola, Sera (2015)
---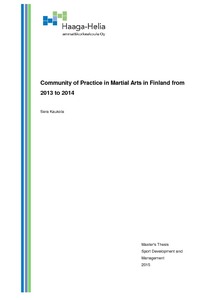 Haaga-Helia ammattikorkeakoulu
2015
All rights reserved
Julkaisun pysyvä osoite on
http://urn.fi/URN:NBN:fi:amk-201505178453
Tiivistelmä
The challenges in today's sporting life include the lack of integration resulting in the duplication in efforts, insufficient cooperation between different stakeholders, and ineffectiveness in sharing knowledge and knowhow. It was easy to find arguments and value for this subject in the present moment because, even though the challenges have been recognized, there are no wider studies about already existing inter-organizational relations between Sport Organizations.

Martial Arts in Finland have cooperated in many levels already several years. The most common ways to cooperate are multi-discipline camps, instructor educations, campaigns and projects.

This study concentrated on seven officials from Finnish Judo Association, Finnish Taekwondo Federation, Finnish Aikido Federation, Finnish Boxing Association and Taido Finland (Finnish Karate Federation) who were the core members in collaborative group of Martial Arts officials and voluntary representatives. The whole collaborative group can be called Community of Practice (CoP) but this study concentrates in officials who were able to put professional effort in organizing events during the years 2013 and 2014. The aim of this study is to deliver awareness about this learning and working method to Finnish Sporting life.

The concept of CoPs dates back in 1991 when it was introduced by Jean Lave and Etienne Wenger as a learning theory. Lave & Wenger stated that CoPs are a system where participants are bound together by passion and common goals. Generally Communities of Practice involve multiple levels of participation (core, active, occasional, peripheral) and most of all participation is self-selected. Some CoPs are formally recognized and some can be completely informal and even invisible. Martial Arts CoP seemed to be something in between.

The officials who were the core members in the Martial Arts Community of Practice placed an order for this study. They gave free rein provided two key issues would be covered: all the projects made by the current CoP would be documented and the Martial Arts joint projects would be made visible to the financing body (Ministry of Education and Culture). The focus in the empirical part was to find out how did the officials from Aikido, Boxing, Judo, Taekwondo and Taido experienced the CoP and how to develop CoP further.

The theoretical framework was based on literature about Community of Practice. The thesis used an exploratory single case study as its research design. The research method was qualitative. Data was collected with focus group discussion (FGD) between core members of the CoP.

CoP seemed to be important part of officials' own work and professional identity. It was considered primarily as a working method than as a pure learning theory. In practice, the Community helped in reducing the workload of the officials and cut down overlap of activities. Officials experienced that with minimum effort they were able to gain notable benefits. CoPs enabled implementing events regularly, which was seen as highly important from the operations point of view. It also experienced a risk-free manner in which to try new things together. In addition to some challenges with distribution of workload, the Community realized that splitting the costs was time consuming and it also distracted participants from their core duties. CoPs are energetic operating environments but it seems too risky to leave all critical core functions under CoPs control. It is obvious this kind of CoP does not live forever. From a risk management standpoint, consideration should be given to what would happen if this CoP would be dissolved in some point.
Kokoelmat