Livbojen - En konkret metod i mötet med sörjande unga vuxna
Sjöblom, Jenny; Kallström, Ida; Kengo, Emma (2015)
---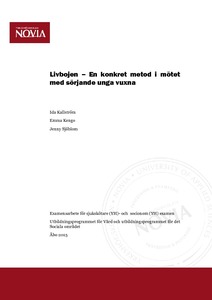 Sjöblom, Jenny
Kallström, Ida
Kengo, Emma
Yrkeshögskolan Novia
2015
All rights reserved
Julkaisun pysyvä osoite on
http://urn.fi/URN:NBN:fi:amk-201505209108
Tiivistelmä
Examensarbetet ingår i projektet "andlighet, spiritualitet och livsfrågor". Syftet med arbetet är att skapa en metod för professionella sjukskötare, hälsovårdare och socionomer, som kan användas i bemötandet av sörjande unga vuxna. Målet med arbetet är att skapa en produkt med vilken den sörjande unga vuxna skall kunna bearbeta sin sorg tillsammans med en handledare. Frågeställningarna som examensarbetsgruppen har jobbat med är: Hur kan man som professionell bemöta en ung vuxen som sörjer? Och: vilka behov har den unga vuxna som sörjer? Produkten som examensarbetsgruppen har skapat är ett armband, där de olika pärlorna symboliserar de känslor som uppstår i sorgeprocessen. Med hjälp av pärlorna skall den unga vuxna bearbeta sin sorg på ett resursförstärkande sätt.
Metoden som skribenterna utgått ifrån är en kvalitativ litteraturöversikt, där de utvalda texterna har analyserats och granskats. Med hjälp av de resultat som framkommit, samt på basis av tidigare forskning har skribenterna bildat sin teori, som resulterade i ovannämnda armband.
Resultaten visar att den sörjande unga vuxna har ett behov av att använda sig av en konkret metod för att bearbeta sin sorg.
This bachelor thesis is part of the project "Spiritualism and life-questions". The purpose of this thesis is to create a method for professional nurses, public health nurses and social workers, which can be used in the reception of young adults in grief. The aim of the thesis is to create a product by which the grieving young adult can process her sorrow together with a preceptor. The research questions that the writers have been working with are: How can you as a professional refute a young adult that is grieving? and: What needs does a young adult in grief have? The product that the thesis group has created is a bracelet, in which each pearl represents a feeling that appears during the grieving process. By using the pearls the young adult will process their sorrow in a resource reinforcing way.
The method that the writers have proceeded from is a qualitative literature search, where the chosen texts have been analyzed and examined. By using the results obtained from the analysis, and based on earlier research, the writers have formed a theory, which has resulted in the above mentioned bracelet.
Studies show, according to research, that the grieving young adult is in need of using a concrete method to process his or her sorrow.
Kokoelmat