Arbetsprocessen kring att revidera en kommuns byggnadsordning : Case Raseborgs stad 2015
Öhman, Thomas (2015)
---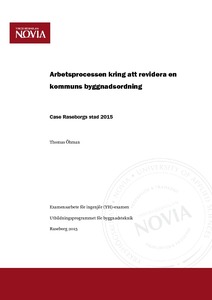 Yrkeshögskolan Novia
2015
All rights reserved
Julkaisun pysyvä osoite on
http://urn.fi/URN:NBN:fi:amk-201505219307
Tiivistelmä
Detta examensarbete utreder arbetsprocessen kring att revidera en kommuns byggnadsordning. Examensarbetet är utfört åt Raseborgs stad vid sidan om stadens revidering av byggnadsordningen. Eftersom en sådan process är tidsmässigt lång hann inte hela processen kring revideringen av Raseborgs byggnadsordning genomföras inom examensarbetets tidsram. I examensarbetet har dock också hela processen för att revidera en byggnadsordning utretts baserat på förordningar i markanvändnings- och bygglagen samt markanvändnings- och byggförordningen.
Raseborgs stad bildades år 2009 genom en kommunsammanslagning av kommunerna Ekenäs, Karis och Pojo vilket är orsaken till att en revidering behövs av den nuvarande byggnadsordningen. Raseborgs stads nuvarande byggnadsordning godkändes 7.6.2010. Examensarbetets mål är att skapa en modell för andra svenskspråkiga kommuner vars byggnadsordning är i behov av revidering, att utreda vilka lagar och myndigheter som påverkar revideringsprocessen samt att jämföra arbetsprocessen med andra kommuner.
Eftersom det är frågan om en revidering av byggnadsordningen utarbetas förslaget till byggnadsordningen baserande på den nuvarande byggnadsordningen. Byggnadsordningen revideras på grund av att den är bristfällig och kräver en uppdatering. Den huvudsakliga revideringen sker i förordningar angående ansökningar av åtgärdstillstånd och anmälan samt förordningar angående byggrätt inom detaljplanerade och utanför detaljplanerade områden. Målet med revideringen är att byggnadsordningen skall bli rättvisare och mindre begränsande.
This thesis examines the working process for revising a building ordinance for a municipality. The thesis work has been carried out to the city of Raasepori beside the city's revision of the building ordinance. Since the process in question is long, my work has not been able to cover the whole process of this revision in Raasepori like it was carried out in practice. However, the whole process is presented in theory, based on regulations in the land use and building act and the land use and building decree.
The city of Raasepori was founded in 2009 through a merger of the municipalities Tammisaari, Karjaa and Pohja, which is the main reason for the fact that a revision of the current building ordinance is necessary. The current building ordinance was approved on 7 June 2010. The aim of the thesis has been to create a model for other Swedish speaking municipalities whose building ordinances are in need of a revision. The laws and authorities affecting the working process have been investigated and the working process in Raasepori has been compared to the processes in other municipalities.
Since it is an issue of revision, the proposition for the building ordinance has been drafted based on the current ordinance. The main causes for the revision are deficiencies in the current building ordinance and the need for an update. The main revision is made in regulations regarding building permissions within and outside detail planned areas. The aim of the revision is to make the building ordinance more equitable and less limited.
Kokoelmat