Sex som självskadebeteende bland unga : En kvalitativ studie om unga som uttrycker sitt lidande genom att skada sig själva
Häggkvist, Diana (2015)
---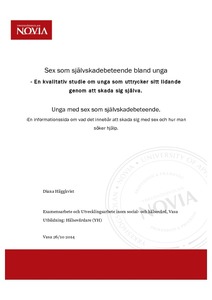 Yrkeshögskolan Novia
2015
All rights reserved
Julkaisun pysyvä osoite on
http://urn.fi/URN:NBN:fi:amk-2015052610467
Tiivistelmä
Syftet med den här studien är att beskriva hur vi kan känna igen unga som använder sex som självskadebeteende. Studien görs för att man inom social- och hälsovården bättre ska kunna förstå, bemöta samt hjälpa dessa unga i deras tillfrisknande. Respondenten vill även ta reda på om det är möjligt att börja må bra igen och få ett gott liv efter att man har skadat sig själv genom sex. Centrala frågeställningar är: vad kännetecknar unga som skadar sig själva genom riskfyllda och skadliga sexuella handlingar eller andra former av självskadebeteende samt hur går tillfrisknandet till?
Respondenten har valt en kvalitativ narrativ metod, samt använt sig av innehållsanalys för att analysera resultatet. Som teoretisk utgångspunkt valde respondenten Antonovskys modell KASAM och Erikssons (1994) Den lidande människan. Resultatet visar att om man blir utsatt för sexuella övergrepp leder detta till trauman som drabbar den utsatte på bred front och sätter spår för livet. Att bli utsatt för sexuella övergrepp tar sig fysiska, psykiska samt synliga uttryck. Beteendet är svårt att bryta. Resultaten i studien pekar mot att det är möjligt att få ett bra liv efter att beteendet upphört. För att möjliggöra detta krävs professionell hjälp för att kunna ändra beteendet och få ett gott liv.
Utvecklingsarbete:
Syftet med utvecklingsarbetet är att via en webbportals informationssida lättförståeligt
och lättillgängligt informera om vad sex som självskadebeteende är. Det görs för att
sprida kunskap bland unga så att de förstår att det finns hjälp att få. Arbetet görs som en
fördjupning av respondentens examensarbete Sex som självskadebeteende bland unga
(Häggkvist. 2014). Centrala frågeställningar är: Vad är sex som självskadebeteende? och
Hur söker man hjälp?
Som teoretiska utgångspunkter använder respondenten KASAM enligt Antonovsky (1987)
och Den lidande människan enligt Eriksson (1994). Slutprodukten av detta
utvecklingsarbete är en informationssida på webbportalen www.Decibel.fi som riktar sig
till unga i åldern 13-25 år. Informationssidan läggs upp under våren 2015, webbportalen
www.Decibel.fi ansvarar för layouten.
The aim of this study is to describe how to recognise adolescents using sex as a means of inflicting self-harm. The reason for conducting the study is to provide a means for people working within social and health care to better understand and treat these individuals, helping them to recover. Furthermore the respondent aims at determining whether it is possible to start feeling well again and to receive a good life after destructively harming oneself through the use of sex. The essential questions are: 1) What is characteristic of adolescents inflicting self-harm through the use of hazardous and harmful sexual acts, or other forms of self- destructive behaviour, as well as 2) how to recover from this.
The respondent has chosen a qualitative narrative method combined with a content analysis to analyse the results. As theoretical frameworks Antonovsky's model of Sense of Coherence as well as Eriksson's (1994) The Suffering Human Being are used. The results show that the consequences of being made victim of sexual abuse are wideranging traumas that leave a deep mark for live. Being made victim of sexual abuse manifests physically, psychologically and visually. The behaviour pattern is difficult to break. In addition, the results point towards the possibility of receiving a good life after the behaviour has ceased. To enable this professional help is required.
Development project:
The aim of this development project is to create an easily accessible and easily understood information page about self-destructive behaviour at a web portal. The reason for this is to spread knowledge about the topic among young people, and also to let them know that there is help to obtain. This study is a continuation of the respondent's essay Sex As Self-destructive Behaviour Amongst Adolescents (Häggkvist, 2014). The questions at issue are "What is sex as self-destructive behaviour?" and "How does one seek help?"
The present study is based on the theories of SOC formulated by Antonovsky (1987) and The Suffering Human Being by Eriksson (1994). The outcome of this in-depth article is an information page on the web portal www.Decibel.fi, which targets young people between the ages 13 to 25. The information page will be on the Internet in spring 2015. The web portal www.Decibel.fi will be responsible for the layout.
Kokoelmat