Marknadsföringsplan : Case: Emmes Retreat Öb
Huldén, Jeanette (2015)
---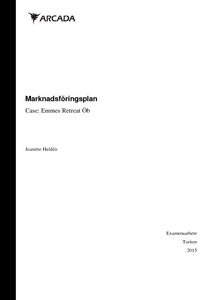 Arcada - Nylands svenska yrkeshögskola
2015
All rights reserved
Julkaisun pysyvä osoite on
http://urn.fi/URN:NBN:fi:amk-2015052911383
Tiivistelmä
Emmes Retreat är ett litet nystartat rekreations företag som försöker etablera sig inom wellness turism marknaden genom att erbjuda hälsofrämjande ledd verksamhet i olika former, mitt ute i den natursköna Österbottniska vildmarken. Uppdragsgivaren har än så länge i huvudsak haft fullt upp med att bygga upp själva området samt planera och testa sina tjänster. Man har i nuläget inte hunnit fokusera särskilt mycket på att marknadsföra företaget och dess tjänster, samtidigt som det också har funnits en viss osäkerhet i frågan om vilken typ av marknadsföring som skulle lämpa sig bäst för företaget i fråga. Ägarna har nu tydliggjort att de här till näst vill se till att öka företagets kundantal och nå ut till potentiella kunder inom en större radie, samt lära sig mera om kostnads-effektiva marknadsförings metoder som gynnar Emmes Retreats utveckling på långsikt.
Syftet med detta arbete är därför att skapa ett förslag på en marknadsföringsplan som skulle kunna hjälpa företaget Emmes Retreat att lättare komma igång med deras marknadsförings verksamhet. Skribenten har valt att forma planen utgående från en modern digital synvinkel i och med att man kan lyckas hålla kostnaderna relativt låga genom digitala marknadsförings metoder, samtidigt som det finns oändliga möjligheter till att nå en stor mängd människor på ett globalt plan.
Teoridelen berör ytligt marknadsföringens grunder och karaktäristiska drag hos turismprodukter, men det väsentligaste som behandlas rör sig specifikt om digital marknadsföring och dess fördelar, samt om uppbyggandet och struktureringen av en konkret marknadsföringsplan. Inom det sistnämnda ämnet inkluderas bl.a. marknader och segmentering, samt även en digital marknadsförings mix modell. Resultatet är en konkret marknadsföringsplan med en digital tyngdpunkt, där utgångsläget först har analyserats följt av en sammanställning av företagets målsättningar, målgrupp och marknadsinriktning, förslag på strategi och handlingsplan, samt råd gällande mätning och uppföljning.
Emmes Retreat is a small newcreated recreational enterprise that is trying to locate itself within the wellness tourism market by offering different kinds of health promoted leaded business activity out in the middle of the scenic Ostrobothnian wilderness. The owners of the company have so far mainly been busy with building up the entire area, as well as planning and testing their services. They haven´t yet really had time to focus properly on the marketing of their firm and its services, and there have concurrently been an uncertainty about what type of marketing would suit the firm best. The entrepreneurs have now though made it clear, that they as a next step want to increase the number of customers and reach potential customers within a bigger radius. In addition to that they would like to learn more about cost sufficient marketing methods supporting the development of the company in the long term.
The aim with this work is therefore to create a propositional marketing plan that could help the enterprise Emmes Retreat to easier get started with their marketing activities. The writer has decided to form the plan from a modern digital viewpoint, since it is possible to manage to keep the costs relatively low with digital marketing methods, as well as there are endless opportunities to reach a wide range of people on a global level.
The theoretical part processes simplistically some basics within marketing and the characteristics of tourism products, but the most significant subjects discussed are especially about digital marketing and its benefits and also theories regarding how to build up and structure a concrete marketing plan. The last mentioned topic includes, among other things, markets and segmentation likewise a digital marketing mix model. The result is a concrete marketing plan with a digital emphasis, where the starting position first has been analyzed, followed by a summary of the goals, target group and target market of the company, suggestion of a strategy and action plan and moreover also some good advice regarding measurement and monitoring.
Kokoelmat