START AV INTERNETFÖRETAG I KLÄDBRANSCHEN : Desire Vaatteet
Storbacka, Kaj-Mikael (2015)
---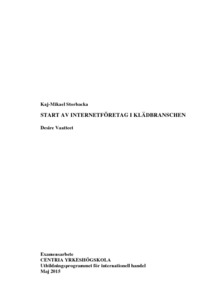 Centria ammattikorkeakoulu (Keski-Pohjanmaan ammattikorkeakoulu)
2015
All rights reserved
Julkaisun pysyvä osoite on
https://urn.fi/URN:NBN:fi:amk-2015060211938
Tiivistelmä
Detta praktiska examensarbete handlar om starten av internetföretaget Desire Vaatteet. Företaget fungerar som importör och försäljare av kläder. Importen sker från EU och försäljningen sker på den finländska marknaden.
Arbetet tangerar företagets målgrupp och segmentering samt tillväxtplan. Olika former av segmentering tas upp och vilka av dessa är relevanta. Tillväxtplanen förklaras lätt.
I arbetet behandlades byggandet av hemsidan och optimering av denna med hjälp av Googles verktyg. Grundläggande funktioner samt tilläggsprogram till Magento togs upp.
Val av betalningsportal och speditör tangerades. Orsaker till valen beskrevs kort.
Allmän information angående handel inom EU samt finländares köpbeteende på internet beskrevs kort. Information om tull- och skatteområden i EU behandlas.
Leverantörer och samarbetet med dessa tas upp i generella termer för att inte bryta sekretesskontrakten som gjorts med dem. Även de företag som Desire Vaatteet kontaktat eller tagit reda på information om men inte valt till leverantör tangeras.
This practical thesis is about the start of the internet based company Desire Vaatteet. The company functions as an importer and seller of clothing. The goods are imported from within the EU, and the sales take place on the Finnish market.
The thesis touches upon the company's target market, segmentation and growth plan. Various forms of segmentation are reviewed and there is a discussion about which of these are relevant. The growth plan is briefly explained.
The thesis deals with the construction of the company's website, and the optimization of this using Google's tools. Basic features and add-ons to Magento are mentioned.
Choice of payment gateway and shipping agents are brought up. Reasons for the choices are described shortly.
General information about the trade within the EU, and Finnish people´s purchasing behavior on the Internet are described shortly. Information about customs and tax areas of the EU are mentioned.
Suppliers and collaboration with those are addressed in general terms, in order to avoid breaking the confidentiality contracts made with them. Even information about those companies that Desire Vaatteet approached or read information about, but not selected as the supplier, are mentioned.
Kokoelmat