Alla är vi fotografer : En praktisk studie om hur man genom olika sätt och knep får till en önskad bild vid fotografering
Lindqvist, Sofia (2015)
---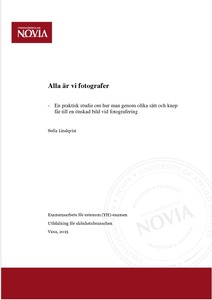 Yrkeshögskolan Novia
2015
All rights reserved
Julkaisun pysyvä osoite on
http://urn.fi/URN:NBN:fi:amk-2015060812850
Tiivistelmä
Syftet med detta examensarbete är att med hjälp av text och bild, utöka kunskapen hos fotointresserade människor, samt att tydliggöra hur man genom olika sätt och med vilka knep får till en önskad bild då man fotograferar. Dessa tekniker redovisas sedan genom teoretiska beskrivningar och praktiska övningar. Resultatet av denna studie kommer att tillämpa sig för fotointresserade människor, branschfolk och studerande på skönhetsbranschen.
I den teoretiska grunden beskrivs kamerans inställningar samt hur de påverkar på bildens resultat. Respondenten utförde under forskningsprocessen fyra olika fotograferingar inom kategorin; den svartvita bilden, barnfotografering, det gyllene snittet och porträttfotografering. I den teoretiska grunden tas upp vad som hör till de olika kategorierna inom fotografering och hur man framhäver de olika kategorierna i form av en bild.
Inom varje kategori har sedan två bilder redovisats som slutligen sammanställts i form av en inspirationsbok. Inspirationsboken kommer att ge utökad kunskap åt branschfolk men även andra estenomstuderande. Frågeställningarna som respondenten använt sig av under arbetets gång är: Vad bör man tänka på när man fotograferar inom en viss kategori? Ser man skillnaden i bilderna när man tolkar resultatet?
Resultatet visar att det är viktigt att förstå sig på vad man vill framhäva i en bild, var fokuset ska vara och hur man ska få betraktaren att fokusera på det man som fotograf önskar framhäva i bilden. Resultatet tyder också på att det är viktigt att känna till var man placerar motivet i en bild för att det ska framhävas. Ljuset man använder sig av, bildens färger, var fokus finns och miljön har en stor påverkan på bilden och hur den uppfattas.
The purpose of this thesis is to figure out how to get a desired image when taking a picture by using different tricks and techniques. Through text and image, the respondent want to increase the knowledge of photo-minded people. These techniques are then reported by theoretical descriptions and practical exercises. The results of this study will apply for photo interested people, professionals and students in the beauty industry.
In the theoretical ground the cameras settings and how they affect the result of the picture are described. During the research, the respondent performed four different kinds of photoshoots in the categories; the black and white picture, children's photography, the golden ratio and portrait photography. In the theoretical basis includes the different categories in photography and how you highlight each category in a picture.
In each category presents two chosen pictures that finally have been put together in form of an inspiration book. This book will inspire and increase the knowledge of people in the same business and other beauty and cosmetics students. The questions the respondent have been using during this research are: What should one consider when photographing in a particular category? Can one see the differences in each picture when comparing the result?
The result shows that it is important to understand what you want to highlight in an image, where the focus should be and how to get the viewer to focus on what you as a photographer wants to emphasize in the image. The results also shows that it is important to know where to place the subject in an image if you want to emphasize it. The light, the colours of the image, where the focus is and the environment all has a great impact on the image and how it is perceived.
Kokoelmat