Designing extrusion die for 3D filament manufacturing
Lipponen, Matti (2015)
---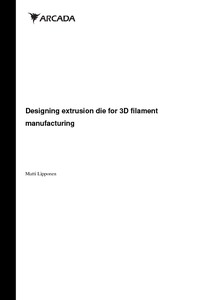 Arcada - Nylands svenska yrkeshögskola
2015
All rights reserved
Julkaisun pysyvä osoite on
http://urn.fi/URN:NBN:fi:amk-2015060512533
Tiivistelmä
Syftet med detta examensarbete var att undersöka om det skulle vara möjligt att produ-cera tråd för 3D skrivaren på plast labbet i Arcada.
Målet i detta arbete var att designa och framställa ett extruderingsmunstycke för
att uppnå acceptabel tråd för Minifactory 3D skrivaren.
Arbetet täcker en hel del saker angående om design av munstycken för extrusion samt deras producering.
Tyngdpunkten i detta arbete ligger på bearbetningen av munstycket samt bearbetnings-processerna fräsning och borrning.
Arcada försedde verktygen och materialen som användes i detta examensarbete. Mjuk-vara som användes för design av munstycket var Solidedge vilket är ett Cad program med solid modelling förmåga. Mastercam användes för att göra verktygsbanor för Haas fräsen och även för att bestämma parametrarna för ingreppen.
Redskap som användes var Haas fräsen, en manuell borr och en metall såg.
Delen framställdes i Arcada genom CNC bearbetning i plast labbet.
Munstycket fungerade som det skulle och möjliggjorde produktion av tråd med rätt di-mensioner för 3D skrivaren.
The purpose of this thesis was to investigate the possibility of manufacturing filament for the Minifactory 3D printer in the Arcada plastics lab and if so how to do it and what ma-terials could be used for filament. The main objective for the thesis was to achieve ac-ceptable filament for the 3D printer.
This Thesis is about the process of designing and manufacturing an extrusion die for the Arcada plastics lab.
The thesis covers a broad range of manufacturing processes and design aspects during the different stages of manufacturing. The focus of the manufacturing processes lies on mill-ing and drilling.
Topics that the thesis tackles are design issues of extrusion dies and overcoming issues with compatibility with extruder mounts with limited tools.
Manufacturing and designing of the extrusion die was done at Arcada.
Arcada provided all the tools and raw materials required the part to be manufactured.
Design software used in the thesis was Solidedge and Mastercam. The Solidedge soft-ware was used to achieve preliminary designs while Mastercam was used to finalize and generate toolpaths for the Haas Milling machine.
The die was manufactured by CNC machining on the Haas milling machine located at Arcada plastics lab. Some other machines like a manually operated drill and a sawing arm were also used when machining the part.
The die worked as designed and was able to produce filament with the correct dimen-sions for the 3D printer.
Kokoelmat