Icke-farmakologisk smärtlindring för nyfödda : En deskriptiv litteraturöversikt
Hansson, Julia (2015)
---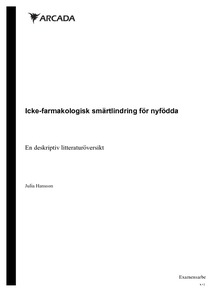 Arcada - Nylands svenska yrkeshögskola
2015
All rights reserved
Julkaisun pysyvä osoite on
http://urn.fi/URN:NBN:fi:amk-2015060912964
Tiivistelmä
Detta är ett examensarbete som kartlägger olika typer av evidensbaserade alternativa, icke-farmakologiska smärtlindringsmetoder. Syftet med studien är att hitta evidens för icke-farmakologiska smärtlindringsmetoder för att stöda sjukskötaren i sitt arbete. Arbetet har gjorts som en deskriptiv litteraturöversikt, för att skapa en kartläggning över smärtlindringsmetoderna. Examensarbetet är en del av 5-Stars projektet och arbetet har skett i samarbete med Lojo sjukhus.
Smärtlindring hos nyfödda är ett relativt nytt område inom forskning. Att nyfödda upplever smärta uppdagades först på 1970-talet och innan det fanns en uppfattning om att nyfödda var smärttåliga varelser som inte var i behov av smärtlindring. Idag är attityden en annan, och stora framsteg har skett inom forskningen, främst inom den medicinska forskningen.
I examensarbete presenteras smärtlindringen idag och alternativa metoder för att lindra smärta. Den metod som har visat sig ha bäst effekt är amning och icke-närande sugande, det vill säga att barnet suger på napp. Andra metoder, som inte har lika höga belägg är olika typ av musik, sensorisk stimulering såsom massage, olika sätt att hålla och att gunga barnet och omgivningsfaktorer. Metoderna har bland annat förbättrat det nyfödda barnets vitala värden, minskat tiden på gråt och barnet har minskat på de ansiktsuttryck som indikerar på smärta. Examensarbetet vilar sig på Katie Eriksson teori ansa, leka och lära, som utgår ifrån samma grund som den alternativa smärtlindringen nämligen att skydda, omfamna och avleda. Avgränsningarna för studien var att den skulle rikta sig till fullgångna nyfödda i smärta.
This thesis work summons different kinds of evidence based non-pharmalogical pain re-lief. The aim for this study is to find evidence for non-pharmalogical pain relief in order to support the nurse in her work. This thesis is a part of the 5-Star project and has been written in association with Lohja hospital. This work was made by using a descriptive literature review to chart the non-pharmalogical pain relief.
Research in the neonatal pain and pain relief is a fairly new field with in research. The fact that infants feel pain was not exposed until the 1970, and the common opinion was that infants are harmless and not in need for any pain relief whatsoever. The attitude of today is not the same, and a great progress has been made. Infants have a greater sensi-bility for pain and the pain should therefore be treated. Most of the progress in research is in the field of medicine.
In this thesis work different ways of non-pharmalogical pain relief will be presented. Methods like breast feeding and non-nutritive sucking has had the best effects on pain, whereas rocking, swaddling, music, sensory stimulation and environmental factors has not reached the same level. The non-pharmalogical methods has given good responses in effects on the vitals of the infants as well as less facial expressions, which is an indicator of pain. As a theoretical framework Katie Eriksson and the "caring, playing and learn-ing" was chosen. This theoretical framework makes the same base as the result of this work which is to protect, embrace and distract. This work was delimited to full term newborns who experience pain.
Kokoelmat