Barn och procedursmärta : En kvalitativ litteraturstudie om lindring och utvärdering av procedursmärta hos barn
Sundström, Johanna; Björkström , Julia (2015)
---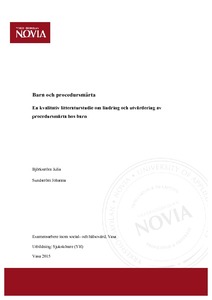 Sundström, Johanna
Björkström , Julia
Yrkeshögskolan Novia
2015
All rights reserved
Julkaisun pysyvä osoite on
https://urn.fi/URN:NBN:fi:amk-2015111916840
Tiivistelmä
Syftet med examensarbetet är att genom en kvalitativ litteraturstudie ta reda på mera om barnens smärta vid olika procedurer samt hur deras smärta kan lindras och
utvärderas. Från syftet har respondenterna tagit fram två frågeställningar som de ämnar söka svar på. Frågeställningarna är: Vad lindrar procedursmärta för barnen?
Hur utvärderas barnens smärta i samband med vårdåtgärden?
Som teoretisk utgångspunkt har respondenterna valt Eriksson och hennes teori om lidande, vårdlidande, lindrande av lidande och barns lidande (1994). Även Lindbergs
teori om leken (2013) blev vald. Som datainsamlingen har respondenterna använt sig av dokumentstudie, vilket innebär 23 vetenskapliga artiklar. För att få en översikt över
dessa har respondenterna gjort en resuméartikel. Artiklarna analyserades med hjälp av innehållsanalys.
Resultatet visar att speciellt icke-farmakologiska metoder är viktiga för att lindra barnens smärta. Det framkom i resultatet att avledning och en trygg atmosfär lindrar
smärtan, men också kylning och sjukskötarens roll lindrar. Farmakologiska metoder som kom fram i resultatet är ketamin, bedövningskräm och lustgas. För att utvärdera
barnens smärta kan man använda sig av olika metoder i samband med proceduren. I resultatet framkom att barnen bör i första hand använda sig av självrapportering, t.ex.
Oucher-skalan. Ett annat bra sätt att utvärdera smärtan är genom att observera barnet. Man kan då använda sig av t.ex. CHEOPS eller FLACC-skalan. Resultatet visar även att man kan utvärdera barnens smärta med hjälp av fysiologiska mått.
The purpose of this thesis is to employ a qualitative literature study to more closely
examine children's pain during various procedures and how it can be alleviated and properly assessed. From the purpose, the authors have formed two questions, which
they seek to an answer: What will give relief to procedural pain in children? How is their pain in connection to the procedure assessed?
The theoretical basis the authors have chosen is Eriksson's nursing theory regarding suffering, suffering in nursing care, alleviation of suffering, and children's suffering
(1994). Lindberg's theory regarding play (2013) was also chosen. For data collection, the authors carried out a thorough document study through content analysis of 23
scientific articles, and have completed a resume article in order to provide an overview of the material.
The results show that non-pharmacological methods such as distraction, a safe environment, and icing are especially important for alleviating children's pain. Also
evident is the important role the nurse plays. The pharmacological methods considered in the results are ketamine, creams with local anesthetic, and nitrous oxide.
To assess children's pain, different methods can be used in connection to the procedure. Additionally, the results show that children should primarily utilize a self-reporting
method such as the Oucher scale, and that simple observation of the child and assessment of pain through the CHEOPS or FLACC scales have proven beneficial. Finally, the results show that physiological means may also be used to
assess the child's pain.
Kokoelmat