Barncancer - Föräldrarnas upplevelser : En kvalitativ studie
Ågren, Rebecca; Wentin, Alexandra (2015)
---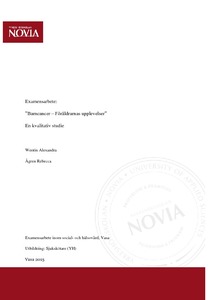 Ågren, Rebecca
Wentin, Alexandra
Yrkeshögskolan Novia
2015
All rights reserved
Julkaisun pysyvä osoite on
http://urn.fi/URN:NBN:fi:amk-2015112117063
Tiivistelmä
Vårt syfte med detta examensarbete är att vi vill få ökad förståelse för vilka olika typer av känsloprocesser som föräldrarna går igenom, samt kartlägga deras stödbehov, när deras barn drabbats av cancer. Vi vill även redogöra för begreppen coping och även den traumatiska krisen och dess fyra delar. Vår frågeställning är: Vilka olika typer av känsloprocesser har föräldrarna till ett cancerdrabbat barn? Vilka stödbehov har föräldrarna till ett cancerdrabbat barn?
Denna studie är kvalitativ, där vi analyserat fyra stycken bloggar, där föräldrar till cancerdrabbade barn, skriver om deras vardag. Med innehållsanalys speglade vi vårt resultat mot våra teoretiska utgångspunkter, vårdrelationen och vårdgemenskap av Katie Eriksson (1987, 1990, 1992) samt mot vår teoretiska bakgrund, innehållande begreppen coping och den traumatiska krisen, samt sex stycken vetenskapliga artiklar.
I resultatet kom det fram att föräldrarnas känsloprocess väl stämmer överens med begreppet coping samt den traumatiska krisens fyra delar. De övergripande känslorna som föräldrarna kände var chock, sorg, ilska och hopplöshet. Även trötthet, oro, humörsvängningar och känslor av hopp kom fram i resultatet. Föräldrarnas stödbehov kom också bra fram, vilket i stor del var betonat på gott bemötande, hjälp med praktiska saker och vikten av att känna samhörighet med familjer i samma situation. I resultatet lyftes även fram vikten av en god kommunikation mellan vårdpersonal och föräldrarna.
Our aim with this study is that we want to increase our understanding of the types of emotional processes that the parents are going through, and to identify their support needs, when their children suffered from cancer. We also describe notions of coping and even the traumatic crisis and its four quarters. Our question is: What are the different types of emotional processes the parents of a cancer afflicted children? Assistance needs are the parents of a cancer afflicted children?
This study is qualitative, in which we analyzed four blogs, where parents of children with cancer, writes about their daily lives. Using content analysis, we reflected our performance against our theoretical points, caring relationship and the health care community of Katie Eriksson (1987, 1990, 1992) and against our theoretical background, containing concepts of coping and the traumatic crisis, and six scientific articles.
The results revealed that parents' emotional process is well in line with the concept of coping as well as the traumatic crisis four parts. The overall emotions parents felt was shock, sadness, anger and hopelessness. Also, fatigue, anxiety, mood swings and feelings of hope emerged in the results. Parental support needs were also well up, which in large part was emphasized on good treatment, help with practical things and the need to feel connected with their families in the same situation. The result also raised the importance of good communication between health professionals and parents.
Kokoelmat