Management of Innovation in South Korean companies.
Ahtiainen, Jan (2016)
---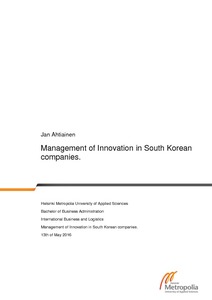 Metropolia Ammattikorkeakoulu
2016
All rights reserved
Julkaisun pysyvä osoite on
http://urn.fi/URN:NBN:fi:amk-2016060211445
Tiivistelmä
My thesis topic was Management of Innovation in South Korean companies' and I tried to write a thesis that would illustrate the current situation in the Korean economy as accurately as possible. As mentioned in the thesis Korean economy is in an interesting situation currently, because of their past over-reliance on exports from family-owned conglomerates the economy grew at an incredibly fast rate. Now the economy's reliance on the family conglomerates exports is the very reason to the hard time in the economy. Essentially the big companies are suffocating the rest of the small and medium sized companies through their influence in almost all business fields.
SME's have an unfair disadvantage in the Korean society and because of this they can't provide the same benefits nor wages that the big companies can, making it harder for them to recruit the brightest talent, and making them more than often understaffed which naturally leads to worker's having a lot of overtime.
In addition to this the cultural aspect of the Korean culture – Confucianism, makes it even harder for people to innovate. Simply because in Confucianism it is believed that obedience and harmony are the most important traits, alongside of course respecting you're elders. The end result is a society where status in the company is defined by not skill or expertise, but rather by years spend in the company and one's age which in turn leads to a strict and hierarchical culture where arguing with one's elders can be seen as bad manners or even worse.
Japanese economy 20 years ago faced the same dilemma as Korea is facing now, not
only is the working culture old-fashioned, but the hierarchical structure is damaging the possibilities of innovating in house, after all Korea has one of the highest, if not the highest educated workforces in the world. It is astounding that the companies are willing to waste all these valuable resources that are just in front of them by making them suffocate within these old-fashioned practices and methods.
Small and Medium-sized companies will definitely be the leading force for Korea in the future, but as for when will that time come it is hard to guess. Because the big family owned conglomerates will hold to their positions with their hands and teeth, until then small- and medium sized companies will have to suffer and patiently wait until their opportunity to be in the spotlight appears.
Having said all this about conglomerates I would still like to mention that having a big company monopolize a market is not necessarily a bad thing, just that the way Korean conglomerates are mostly monopolizing and suffocating the various market's is a bad thing. There are a good examples of conglomerate innovation in Korea as well, albeit a few only, such as Hyundai Card or LG in the Indian market. Unfortunately most of these innovations have been led by a westernized Korean person.
In my thesis I mentioned how big of a role top management has in setting a clear vision, mission that focus on a few key areas in order to encourage innovative culture within the company. It is extremely vital to empower the whole organization, even the individuals that are the very bottom of the '' food chain '' of corporate hierarchy in order to make everybody embrace it. The problem in this case is that the organization structure needs to change to a more flexible, quick-feedback leading to a quick-decision based structure for the company to not just be something spoken to the press as lip-service.
As mentioned by Peter Drucker in his book Management of Innovation and Technology: ''Innovation is a specific instrument of entrepreneurship, simply put it is the act endows resources with a new capacity to create wealth. '', change will be a catalyst to provide opportunities for new and different possibilities. Therefore companies must develop a systematic, purposeful and organized process in order to find those changes and analyze them – and that will be what lead's them to economic or even social innovations.
Kokoelmat